Brenda Sue Wood Sanchez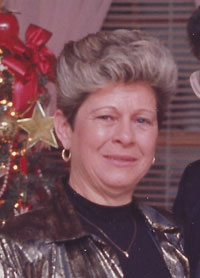 Brenda Sue Wood Sanchez of Preston, Md. passed away on Sat.  April 26, 2014 at UMSMC at Easton.  She was 71. She was born March 21, 1943 in Thomasville, N.C, the daughter of the late William D. and Lilly Mae Batten Wood.
Brenda was a master floral designer for 37 years.  She enjoyed ballroom dancing, painting jackets, decorating Christmas trees, and yard work.  She was
a member of Bethlehem Wesleyan Church. For many years Brenda spoke in schools, churches and other programs including the American Lung Assoc., about her illness of COPD, emphasizing the need for young people to stop smoking.  She also participated in the DARE Program in Talbot Co.
She is survived by her husband, James Charles "JC" Sanchez, a daughter Megan Lee Canady, granddaughters Kiley Brenee Canady and Courtney Lynn Canady, all of Fredericksburg, Va. three step-children, Jo Anna Sanchez, Vincent Sanchez and Stephen Sanchez, all of Virginia Beach, Va., step-granddaughter Carey Sanchez of Virginia Beach, a nephew Jerry Daryl Wood (Debbie) and their daughter Ashley, both of Rhonda, N.C.  In addition to her parents she was preceded in death by a brother Jerry Wood and his wife, Margie.
A memorial service will be held on Monday, May 5, 2014 at 6 p.m. at Framptom Funeral Home in Federalsburg, Md. A visitation with the family will be from 5-6 p.m. on Monday.  In lieu of flowers memorial contributions can be made to the American Lung Association, 211 E. Lombard St. #260, Baltimore, MD  21202. Share memories with the family at www.framptom.com.