2014 Town Elections Profiles: Gwen Washington for Dumfries Town Council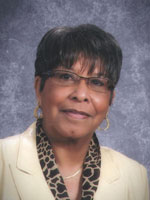 Name: Gwen P. Washington
Campaign website:
Age: 71
Town of residence: Dumfries, Va.
Office seeking: Town Council
Occupation: Behavior Specialist, Dumfries Elementary School
Education: BS-VA State Univ & MEd-George Mason University
Community involvement: Little Union Baptist Church (Deaconess, VBS Director, Asst. Church Clerk, Drama President/Director), Lifetime member National Education Association, Lifetime Member VA Education Association, NAACP, VA Municipal League, VML Human Resources & Education Committee, Delta Sigma Theta Sorority, Women In Community Action, AARP.
Why should young people be excited to vote for you?
Young people should be excited to vote for me because I remain open to listen to them and discuss their concerns so that I can better represent them in the Council's Decision Making Process. As a lifetime Dumfries resident, educator and community volunteer, I have worked with young people on many levels. I am very open, honest and most of all very approachable. I have spent my adult life advocating for young people. I look forward to continuing to work with all of our citizens, as we shape our future together.
In your opinion, what are the top three major issues facing the district you wish to represent? What concrete solutions do you propose to address these issues?
Top three issues facing our town: Economic Development, Traffic Issues, and Infrastructure Issues. I believe that collaboration is one of the keys to our economic development and traffic issues. We need to start an ongoing dialog with our current business owners and neighboring Virginia towns as we continue to explore ways to increase our economic development.
We also need to work collaboratively with our local and state officials in the planning and funding of road projects. We need to find a way to be at the table where decisions and policies are being made, so that we can ensure that our concerns and issues are being addressed. We also need to seek more available grants that will help us revitalize and improve our town's infrastructure. We definitely need more sidewalks and lighting to keep our citizens safe.
What are the biggest issues and needs facing the youth of your district? What will you do to address those needs?
Biggest issues facing the youth of our town: Lack of transportation and lack of family oriented activities. The town has made great strides this year in the area of family activities. With the onset of the new Parks and Recreation Commission, family activities have doubled. I will continue to vote to provide the necessary resources to fund quality family activities. In order to improve our transportation issues, we need to form partnerships with community stakeholders. We, also, need to seek grants for programs that include transportation funding..
From your prospective, what is the job description of the office you're seeking? What expertise will you bring to the position?
My job as a councilwoman is to represent the best interests of the citizens of Dumfries. I believe that the direction of our town must be established by it's people and carried out by it's leaders. It is their right to question our actions; to offer us advice; and to hold us accountable. I am a lifelong resident who has spent three years on the council representing the people of Dumfries.
My family has a history of community service here in Dumfries and I am aware of the responsibility that the people have charged me with—I do not take it lightly. I have always made my decisions based on "what's best for Dumfries." I'm not just a Town Councilwoman, I'm a lifelong concerned citizen. As a citizen, I want the same things, I believe most of our voters want.
Do you feel that the average citizen is well-informed and understands the workings of town government? If not, how do you intend on improving communication with your constituency?
I do not believe all of our citizens understand the workings of our town government. I believe, well informed and more involved citizens are the answer to a better Dumfries. For that reason, over the past two years, I have voted with the council to invest in new technology designed to enhance our citizens involvement in the workings of our town government.
Have you ever made any mistakes in your public life? How have they effected you?
No.
Is there something that you are currently working to improve and develop within yourself to become a better leader?
Currently I am not working on any personal improvements. However, I consider myself a lifelong learner, so if something comes up that I need to improve or develop within myself, I will not hesitate to seek resources.
Editor's note: Editor's note: Residents of Prince William County's towns of Dumfries, Haymarket, Occoquan, and Quantico will head to the polls May 6. PotomacLocal.com emailed a questionnaire to all candidates seeking office in this year's elections in . The responses we received will be posted to this website.