2014 Town Elections Profiles: Christy Hart for Dumfries Town Council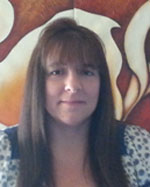 Name: Christy Hart
Age: 39
Town of residence: Dumfries, Va.
Office seeking: Town Council (write-in candidate)
Occupation: Independent Contractor
Education: College
Community involvement: President of Williamstown HOA, volunteer at St Francis House, volunteer at Dumfries Elementary, Manage Williamstown Pool, Manage Williamstown National Night Out, Manage Community Yard Sale, Write Community Newsletter to keep residents informed.
Campaign website:
Why should young people be excited to vote for you?
Because I bring fresh ideas to the council from a younger prospective.
In your opinion, what are the top three major issues facing the district you wish to represent? What concrete solutions do you propose to address these issues?
A. Creating a budget that is conducive to the town size. Currently we are spending money on programs that are mirroring the county instead of having programs that will help our citizens.
B. Lack of proper infrastructure conducive to our business community. We must create a pedestrian friendly community. This will put the consumer at the businesses front door.
C. Create most of the under developed areas of the town into a mixed use zone. Most young individuals are looking for areas where they can work, live and shop in the same area instead of getting in their vehicles and drive in traffic and take most of their day.
What are the biggest issues and needs facing the youth of your district? What will you do to address those needs?
Increased drug and gang activity. We need to bring in resources that specialize in dealing with these two problems and give them the ability to prosecute these individuals to the fullest extent of the law.
From your prospective, what is the job description of the office you're seeking? What expertise will you bring to the position?
As an HOA President, I bring the expertise of being connected to the community, local businesses and local government. We meet with the Town Council and discuss our concerns. By being on the council, I can address these concerns first hand.
Do you feel that the average citizen is well-informed and understands the workings of town government? If not, how do you intend on improving communication with your constituency?
Yes I do feel the citizens are well informed. There is social media, Town website, Town Charter (like a newsletter) and open council meetings. But there are more ways to improve this too. There is an important aspect that is missing, a local newspaper (not everyone has cable or internet). A lot of citizens used to depend on the newspaper but that has gone by the wayside.
Have you ever made any mistakes in your public life? How have they effected you?
Well, I have never held a public office therefore no mistakes have been made. No one is perfect and I'm sure that I as well as other council members will make mistakes.Is there something that you are currently working to improve and develop within yourself to become a better leader?
Currently I am not working on any personal improvements. However, I consider myself a lifelong learner, so if something comes up that I need to improve or develop within myself, I will not hesitate to seek resources.
Is there something that you are currently working to improve and develop within yourself to become a better leader?
Yes I am currently working to improve my communications skills. I think everyone has something to work on because no one is flawless.
Editor's note: Editor's note: Residents of Prince William County's towns of Dumfries, Haymarket, Occoquan, and Quantico will head to the polls May 6. PotomacLocal.com emailed a questionnaire to all candidates seeking office in this year's elections in . The responses we received will be posted to this website.