2014 Town Elections Profiles: Kurtis Woods for Haymarket Town Council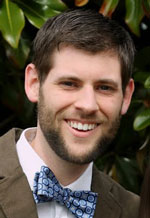 Name: Kurtis Woods
Age: 26
Town of residence: Haymarket, Va.
Office seeking: Town Council
Campaign website: votehaymarket.com
Occupation: Systems Administrator
Education: Bachelor's of Science in Information Systems from Cedarville University
Community involvement: Involved in service with McLean Bible Church including community programs, serving on Sunday mornings and as a member of a search committee for a new worship pastor.
Why should young people be excited to vote for you?
I bring a youthful perspective to the town council. I plan on living here for a long time and will endeavor to work for the good of the town's future. I will respect the voice of every citizen, especially those with more experience and investment in the town.
In your opinion, what are the top three major issues facing the district you wish to represent? What concrete solutions do you propose to address these issues?
The town needs to take a look at it's organization and find areas of duplication that can be removed. I support an organizational assessment to discover and tackle those issues.
There are several vacant properties in town, some of which are eyesores. Providing businesses with incentives and a friendly atmosphere could transform those vacant properties to be thriving and revenue creating locations.
The police department needs a serious look as well. We need to include it in the above mentioned organizational assessment to determined how it can be managed to serve the best interests of our town.
From your prospective, what is the job description of the office you're seeking? What expertise will you bring to the position?
A town council member's job description is, in my opinion, to listen to the citizens of the town and make informed decisions based on their desires and needs. It is to manage the town's affairs in the best interest of the people. I would be able to contribute a young family's perspective, my expertise as an IT professional, and a listening ear.
Do you feel that the average citizen is well-informed and understands the workings of town government? If not, how do you intend on improving communication with your constituency?
I do not feel that the town is currently well informed. They need to make efforts to take advantage of more available avenues of communication to get the issues in front of the public. One proposed means of doing so is to personally visit the homes of the town residents during my term to talk with them about their needs and desires.
Have you ever made any mistakes in your public life? How have they effected you?
This is my first try at politics, and I have not yet had much chance to make public mistakes or be affected by them. However, in my personal life I always strive to own up to my mistakes and accept the consequences with grace.
Is there something that you are currently working to improve and develop within yourself to become a better leader?
There is nothing like experience. I believe that simply by serving on the town council will make me into a better leader. I am surrounding myself with other leaders that I look up to, and I continually seek their advice.
Editor's note: Residents of Prince William County's towns of Dumfries, Haymarket, Occoquan, and Quantico will head to the polls May 6. PotomacLocal.com emailed a questionnaire to all candidates seeking office in this year's elections in . The responses we received will be posted to this website.