2014 Town Elections Profiles: Jerry Foreman for Dumfries Mayor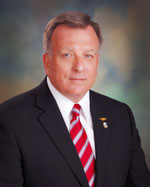 Name: Gerald "Jerry" Foreman
Age: 52
Town of residence: Dumfries, Va.
Office seeking: Mayor
Campaign website: gmforeman.com
Occupation: Aviation Consultant, United States Marine Corps (25 years – – Retired), Current Town of Dumfries Mayor
Education: B.S. Aviation Management from Southern Illinois University (Carbondale) and a M.S. Aviation Science from Everglades University in Florida.
Community involvement
American Legion; Dumfries Business Association; Ellis Airport Board Jacksonville, NC (2005-2006); President Hampstead Landing Homeowners Association (2007-2010); Historic Dumfries Virginia Inc. (2009-Present); Image Church (Dumfries); Kiwanis International; Marine Corps Aviation Association; Marine Corps Association; Military Officers Association of America (MOAA); National Rifle Association (NRA), Northern Virginia Regional Commission (NVRC), Prince William County Republican Committee; Southern Illinois University Alumni Association; U.S. Air Force Association; Veteran of Foreign Wars (VFW); Virginia Municipal League (VML).
Why should young people be excited to vote for you?
The Town of Dumfries is 265 years young. This Town was founded by young Virginians, who had ideas and were motivated by making their vision a reality. Today, young voters live in a democracy where they were born with the right to have a voice in government. Dumfries is "local government" and this is where young voters can make the biggest impact. A government by the people, for the people just can't work without people participating.
Since elected Mayor, there has been a changing of the Guard; Council, County and State officials have been challenged with a fresh perspective and new energy from the Town of Dumfries. Dumfries needs a new prospective, those who think outside the box. We have a lot happening in our Town right now. Our young people can have a voice in how things get done….status quo is not always a good thing. Changing direction means fresh voices, fresh ideas and the ability to effectively work with fellow Councilmembers and staff. Our young voters can bring all that to our Town.
I welcome new and exciting growth and challenges in our Town. I have met our young voters and they are active in business, volunteer organizations and churches. They should be encouraged and applauded when they step forward with governmental ideas and a willingness to make a difference. Your elected officials should not fear change or discussion for change, this is where ideas are nourished and compromise is facilitated. Politicians get elected because of the ideological beliefs and the effectiveness with which they articulate positions.
Young people ages 18 to 29 make up 21 percent of the eligible voting population, and when younger people participate in elections, it makes it more likely that others in their households will vote. So this year, make an effort to do your research. Find out which Town Official is leading by example and is taking care of your interests and providing you a quality of life you deserve. Remember how important it is to vote, and commit to being a part of creating change.
In your opinion, what are the top three major issues facing the district you wish to represent? What concrete solutions do you propose to address these issues?
1. Transportation:
– Route 1 Widening Efforts (to commence in CY 2025): This requires continuous dialogue with Richmond (VDOT & Elected Officials), Fairfax (VDOT), Northern Virginia Transportation Authority, and Prince William County Elected Officials and Staff.
– Rte-234 Extension to Potomac Shores intersection w/Rte-1: This is and remains a joint effort between VDOT, PWC and the Town of Dumfries. No one entity has a lead. It will only be through a combined effort that there will be shared success.
2. Continued repeals FY10 Equalization Initiatives:
While the economy / housing rates have not fully recovered since the recession and housing market collapse of 2009 / 2010; the Town Council should take every opportunity to address these initiatives. The Town's budget is solid (and each year has more revenue than projected); this should not happen year after year without repealing these unfair taxations. While a full return to pre-Initiatives levels cannot happen, each item should be addressed individually.
3. Protection of our Natural Resources:
– Quantico Creek & Quantico Bay Protection & Restoration: PWC, the National Park Service, the Chesapeake Bay Authority, Northern Virginia Regional Commission and the Town of Dumfries are addressing this concern. Stormwater Management Programs and conservation efforts must complement each other as Dumfries is where all efforts converge.
– Park Maintenance & Beautification (all Parks within Town limits): Our Parks were created for relaxation and enjoyment. There should be an effort by Councilmembers and Staff to identify and work with organizations in Northern Virginia that will donate funding to beautify, maintain and promote our parks. Too often Council wants to create activities that require staff man-hours and taxpayers monies to promote and execute, when there are organizations that want to partner and share the cost with the Town.
What are the biggest issues and needs facing the youth of your district? What will you do to address those needs?
This boils down to family and community values and having pride in your hometown. We are fortunate to have non-profit organizations and Churches in the Town that offer programs that compliment parenting. The Town of Dumfries partnering with local organizations offer a lot for everyone, we have:
– The General Heiser Boys & Girls Club that offers programs after school, on weekends and also offers an organized sports program.
– Historic Dumfries of Virginia (HDV)/Weems-Botts Museum offers Town of Dumfries and Prince William County (PWC) history, demonstrating colonial life and sponsoring living history events such as "Living History Programs" and "Children's Day at the Museum"; thus, helping to bring to life our communities rich contributions of historical importance. With PWC and Manassas Schools, HDV offers a "Virtual Classroom" on the internet (and programs on PWC television); an interactive talk about the History of PWC and the Port of Dumfries from pre-colonial time through the 1800s. Lastly,monthly HDV hosts a "Home Schooling Day" with SOL approved programs.
– Programs sponsored by the Town of Dumfries Staff such as "Dumfries Cares", "Elementary Emerging Leader's Program", "Middle School Monday Program" and lastly our "Internship Program"
From your prospective, what is the job description of the office you're seeking? What expertise will you bring to the position?
I believe that the spirit of Dumfries starts and ends from the Mayor's seat, for my full job description refer to gmforeman.org (click "Promise" tab).
I would like to say that it is not "one" experience but rather a lifetime of experiences that have prepared me to serve as Mayor. I have learned as a Marine, as a business owner, as an Aviation Consultant, a logistics contractor supporting the Federal government, as a College Professor, as Councilman and as your Mayor with two years under my belt.
In each occupation or profession, I have had experiences that have taught me how to bring together and lead a group of people from diverse backgrounds and, while utilizing resources in a strategic way, strive to accomplish common goals and shared objectives. Throughout my personal and professional life, I have learned how to conduct research, listen to concerns, prepare plans, work with other people, endure hardships, and I have demonstrated all of these skills as mayor.
I have ensured that challenges are approached in a solution minded attitude and continually bring a sense of optimism. This optimism conveys a sense of a "Can-Do" attitude that is desperately needed in today's political arena. I have and will continue to cross party lines in order to achieve singular and common goals.
Do you feel that the average citizen is well-informed and understands the workings of town government? If not, how do you intend on improving communication with your constituency?
I am speaking from knowledge as Mayor, the citizens and business owners of the Town of Dumfries are well in tune with the concerns, issues and future for the Town of Dumfries. In two years as Mayor, I have met with citizens and business owners 3-4 four days a week.
Let me bring to light my recent campaign experience; it was the citizens, organizations and business owners of Dumfries who wrote me, called and stopped by my office at Town Hall, as well as my home, to discuss Town concerns. During each conversation, it was made clear to me the accomplishments that had been achieved over the past two years and the shared vision and strong support of what has yet to be achieved. Lastly it was made clear to me that the voters of Dumfries are very much aware of the political climate in Dumfries, the voters want a choice.
Have you ever made any mistakes in your public life? How have they effected you?
Have I made mistakes? Absolutely, who hasn't? I accept responsibility for my actions, both failures and successes. However as Mayor, it's different, I also accept the responsibility for Council decisions as a whole. Mayor's need to be dreamers in one sense but realistic enough to take affordable steps to move things to reality. Elected officials solve problems through facilitation and action, not petty bickering on the Council dais.
I have ensured that challenges are approached in a solution minded attitude and continually bring a sense of optimism. This optimism conveys a sense of a "Can-Do" attitude that is desperately needed in today's political arena. I have and will continue to cross party lines in order to achieve singular and common goals.
I have had the courage to face adversarial challenges daily; with six other Councilmembers there is surely someone who always disagrees with what I am doing. No elected official should take "no" for an answer. I am not going to be embarrassed, intimidated or dissuaded in promoting the Town's interests. My focus has matched my ambitions. I don't have any regrets in my actions as Mayor. This is a job where you learn by talking to other Mayors, past and present. I have been very fortunate to have the counsel of former Dumfries Mayors Butch Brawner, Chris Brown and Mel Bray. They have been a wealth of information. I deeply believe in the principle that elections come with a solemn obligation to act in the best interest of the Town.
Is there something that you are currently working to improve and develop within yourself to become a better leader?
When dealing with people, I've learned that no matter where you go, faces change, names change, but personalities remain the same. There will always be that one person that is divisive, wants the limelight, challenges authority, comes unprepared, uses big words and doesn't know what they mean or berates others. How to deal with an individual is always a learning experience. Behavioral concerns are in every work environment, it's more challenging when you are a Christian and an elected official.
Editor's note: Residents of Prince William County's towns of Dumfries, Haymarket, Occoquan, and Quantico will head to the polls May 6. PotomacLocal.com emailed a questionnaire to all candidates seeking office in this year's elections in . The responses we received will be posted to this website.