Moser: Fancy High School Design? What About PACE East?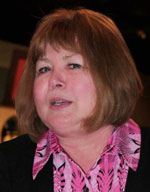 I saw a photo of two schools (Two prototype schools. The one on top is Freedom, the one below is Patriot) The Prince William County School Board recently had to select which model the next (13th) high school should follow.
In my heart, I'm yearning for that big, beautiful, light-filled, elegant structure. I think the Freedom design looks dated, institutional, boxy and unfriendly. In my head I'm thinking the Freedom design is much less expensive. I'm also recalling the exorbitant cost of the 12th high school with all the bells and whistles, soon-to-be built at the intersection of Hoadly Road and Va. 234.
If Prince William County Public Schools (PWCS) had saved the additional money from the pool and put that toward the 13th high school design, which is planned to be built in western Prince William County, we'd be close to even, wouldn't we? Couldn't we then have had two high schools built with the more modern design?
Now, in part because of the brouhaha over the 12
th
high school, the 13
th
high school is forced to accept less. But, wait! Is it less? Less than what?
It's certainly not less than PACE East!  PACE East is on the right side of that photo. What kind of shining example of special education is THAT school? How can we even consider investing nearly $110 million in the 12th high school or $90 million for a 13th high school when we have a PACE school that looks like a correctional facility?
Am I the only one who feels ashamed that the beautiful Kelly Leadership Center is within sight of the Pace School? Do you think it is appropriate that special education students have to go out in the rain to get to the bathroom?
I've been in some schools that are showing their age. I know in America we treasure the new and shiny while we disregard the old and dowdy. I know the appearance of a building doesn't reflect the quality of the teachers or the dedication of staff.
Perhaps I am overly sensitive to the appearance of the Pace School? I did have a parent tell me the Pace Students do not have iPads like so many other PWCS students have received. Is that relevant? Is that suspect? Does that confirm my sense that no one really knows or cares about that school at Independent Hill, save the children and parents who go there?
Nearly every day of our lives is a battle of some sort. Occasionally I come up against something that is just too big for me to handle. This is one of those things.
I'm sure PWCS will have an explanation for this. The people who do budgets and crunch numbers always have reasonable, logical explanations for my questions. Someone is going to have to explain to me why at the 45-year-old Independent School building, the PACE logo is displayed on the side of a utility shed instead of a monument sign and why those trailers that look like a prison are the solution to special education in wealthy Prince William County.
*This story has been corrected
Post Your Email Notices, Press Releases, Event Fliers, and Photos
The FREE email packed with local news
The FREE email packed with local news
The FREE email packed with local news
Sign Up