First Town Center Moves Forward; Includes Dumfries' Tallest Building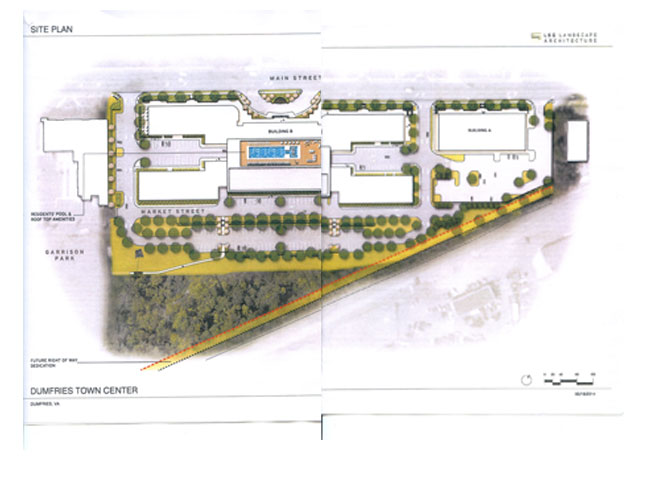 DUMFRIES, Va. – The on-again, off-again First Town Center project appears to be on again.
The plans for the town center skidded to a halt in November 2012 after some landowners backed out of the project of Developer Pete Singh. In early 2013, the town determined it could not dedicate any more staff or time to the project until the matter was resolved.
Singh said that he now has control of all the land needed for his project but wouldn't discuss details.
It's a large project. Singh is proposing to build a 100,000-square-foot commercial and retail center with upper-floor flats. It would sit along Main Street (U.S. 1 south) near Dumfries Town Hall. However, an office building already owned by Singh adjacent to Dumfries Town Hall remains largely empty.
When asked about the town center, Chris Caldwell, president of the Dumfries Business Association, responded with enthusiasm.
"Pete Singh's project is going to be a definite plus for the Town of Dumfries," said Caldwell. "If Pete Singh's price for leasing commercial space is comparable to leasing prices in the surrounding area, then I do believe that the retail space will fill up very rapidly and provide the town with additional revenue via retail and property tax."
Plans for the town center were first submitted to the town in June of 2011 and have changed several times since but, according to Town Manager Dan Taber, that's normal.
"Conceptual drawings and final construction can be ages apart," explained Taber.
According to the most recent plans, the buildings will range from four to seven stories and mostly be residences over retail shops along with other businesses. At a recent town council meeting, Singh spoke of bringing in "businesses that are store-front oriented." The parking lot for one of the buildings is slated to be located inside the parameter of the structure instead of outside as it typically is for most buildings. And the seven-story tall building, if allowed, would be the town's tallest.
The town center will be located in Dumfries along U.S. 1 on land that runs from the rear of the ACTS building up to the two-story brick building next to Town Hall that Singh also owns.
"I am hopeful that this could be a new beginning for growth in the Town of Dumfries," said Caldwell.
Post Your Email Notices, Press Releases, Event Fliers, and Photos
Subscribe to the weekday Breakfast Links email FREE!
Get
updates straight to your inbox.