After Dropping Out, Foreman Back in Dumfries Mayoral Race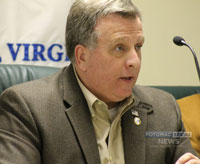 DUMFRIES, Va. — Dumfries Mayor Jerry Foreman says he's running for re-election, again.
The sitting official, in a statement released Sunday, said an outpouring of support from those who live in the town encouraged him to re-enter the race prior to the upcoming Election Day on May 6.
"During each conversation, it was made clear to me the accomplishments that had been achieved over the past two years and the shared vision and strong support of what has yet to be achieved. Lastly it was made clear to me that the voters of Dumfries want a choice.
I have stated on numerous occasions that Dumfries has a small Town feel, there are a lot of proud citizens and business owners in this Town that are working together for a common cause. I am humbled at the outpouring of support. With much thought and consideration, I am campaigning for re-election as Mayor of Dumfries," Foreman stated.
Foreman is a Republican, and Prince William Republican Committee Chairman Bill Card says they've made volunteers available to Foreman who could go door knocking, as well as assist with other campaigning, if he chooses to use them.
"The people of Dumfries already know who he is and he has a good reputation, so I think we'll let the voters decide what they think on Election Day," said Card.
Vice-Mayor Willie Toney, a Democrat, is running against Foreman. Democratic advisors told him to continue campaigning as if Foreman had never dropped out of the race because Foreman's name would have still appeared on the ballot on Election Day.
Foreman announced on April 1 he would not seek reelection. Since reversing that decision, Foreman has not stated why he decided to drop out.
"I really don't know what to make of this," said Prince William Democratic Chairman Harry Wiggins. "Here's a guy who can't make up his mind if he's running or not. His indecisiveness hurts the voters' perception of him, especially because of this flip flop."
Wiggins said many volunteers have fanned out across the 1.6 square mile town to help Toney get signatures so he could appear on the ballot, as well as help with other campaign functions. The Dumfries race, including races in Prince William's others towns: Quantico, Haymarket, and Occoquan, is one of Prince William Democrats are trying to win this season.
Following this election, local politicos will turn their attention to the Prince William County Board of Supervisors races set to take place in 2015, but not before a special election to replace Brentsville District Supervisor Wally Covington who's expected to leave the Board for a judgeship as soon as Richmond legislators agree on a state budget to fund the position.
Foreman was originally elected to the Dumfries Town Council in 2010 and later elected mayor in 2012, replacing the late Fred Yohey who died in office while serving on the Dumfries Town Council as Mayor.
Post Your Email Notices, Press Releases, Event Fliers, and Photos
The FREE email packed with local news
The FREE email packed with local news
The FREE email packed with local news
Sign Up