Info Meeting Planned for Stafford's 350th Anniversary Founders Day Parade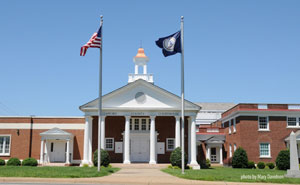 Stafford's 350th Blue Ribbon Anniversary Committee and the North Stafford Rotary Club are finalizing plans for the May 3 Founders Day "Presented by The Free Lance-Star Media Companies" event, and invite the public to a special meeting to learn about the activities planned for that weekend including the traffic safety plan.
The meeting will take place on Thursday, April 3, 2014, at 7:00 p.m. in the lower level conference room at the Stafford Hospital, 101 Hospital Center Boulevard, Stafford, VA 22554.
Founders Day, organized by the North Stafford Rotary Club, will feature a hometown parade beginning near Stafford Hospital and ending at Brooke Point High School, historical re-enactments, and Via Colori street painting demonstrations. The popular Stafford County Schools Fine Arts Festival, coordinated by Stafford County Schools, will also take place that day. The parade will start at 9:00 a.m. on May 3 and the Fine Arts Festival will begin at noon that same day at Brooke Point High School.
The day's events will impact traffic along Courthouse Road, Brooke Road, and the area around the Stafford Hospital and Brooke Point High School. The traffic management safety plan has been approved by the Virginia Department of Transportation, and public safety personnel will be at the April 3 meeting to explain the road closures and answer questions from residents. The schedule for the weekend follows:
SCHEDULE
Friday, May 2
Setup begins at Brooke Point High School and Stafford Hospital
Saturday, May 3
6:00 a.m. ………………………………………………. Partial closure of Courthouse Road
(One lane in each direction will be closed)
6:30 a.m. – 7:30 a.m. ……………………………… Arrival of Parade Participants
8:00 a.m. ………………………………………………. Full Closure of Courthouse Road for Parade
9:00 a.m. – 11:30 a.m……………………………… Parade
12:00 p.m. – 1:00 p.m. ……………………………. Partial Opening of Courthouse Road
1:00 p.m………………………………………………… Courthouse Road Re-opens
12:00 p.m. – 5:00 p.m. ……………………………. Fine Arts Festival and History Square
Sunday, May 4
Fine Arts Festival and History Square ……….. 12:00 p.m. – 5:00 p.m.
Founders Day marks the second major event of Stafford's anniversary year. More than 4,300 people attended "Celebrate Stafford 350," which launched the yearlong celebration, at the Stafford Marketplace on Saturday, January 4, and even more are expected at Founders Day. The special event is being sponsored by The Free Lance-Star Media Companies, Stafford Hospital Foundation, NSWC Federal Credit Union, Atlantic Builders, and Assist2Sell. In addition to the North Stafford Rotary Club, other partners for Founders Day are Via Colori, Fredericksburg Area Museum and Cultural Center, and the Patawomeck Indians of Virginia.
Other major events for Stafford's 350th celebration are:
June 25 — Celebration Stage Opening will take place at Pratt Park and will provide a lasting legacy and permanent location for programs, events and performing groups.
October 18 — "Wings and Wheels." This event at the Stafford Regional Airport will commemorate Stafford's proud military heritage with flight demonstrations, military exhibits, and a motorcycle and antique car show.
November 1 — "Trail to Freedom Tour/Rowser African-American History Wall Opening." Explore and honor the African American story in Stafford through a tour that commemorates the lives, strengths, personal stories and struggles of Stafford's African American citizens.
In addition, there are many yearlong activities planned for the whole family to commemorate Stafford's 350th anniversary, including a special 350th anniversary lecture series sponsored by the Central Rappahannock Regional Library. The first lecture begins tonight at 6:30 p.m. at the Headquarters Branch at 1201 Caroline Street in Fredericksburg. The lecture, titled "George Washington, Spymaster: How America Outspied the British and Won the Revolution War," will be given by Thomas B. Allen, children's book author. Mr. Allen will sign books after his lecture.
For more information on these events and other activities, please visit www.stafford350.com. Interested individuals can also sign up to receive a free monthly e-newsletter on the site. Additional information can be found on Facebook at Stafford County 350 Anniversary, Twitter @StaffordCo350 or by emailing info@stafford350.com.
Post Your Email Notices, Press Releases, Event Fliers, and Photos
Subscribe to the weekday Breakfast Links email FREE!
Get
updates straight to your inbox.