Stafford Supervisor Takes Issue with Military Vehicles on 610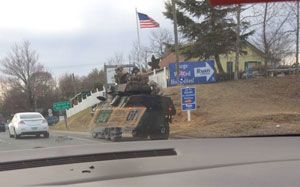 NORTH STAFFORD, Va. — Have you seen military vehicles traveling on Garrisonville Road lately?
Several Marines were using light armored vehicles, known as LAVs, when training at Quantico last weekend. Some drivers, including Garrisonville District Supervisor Laura Sellers, noticed the LAVs using Va. 610 (Garrisonville Road) to transport Marines to the training sites.
Sellers noted seeing the LAVs during a discussion about the Quantico Joint Land Use Study which, among other things, talks about the need for military personnel to use Va. 610 to transport vehicles to the western portions of Quantico, where many of the base's muntions ranges are located.
"It doesn't' happen often, but just last week I have a question about what that does to our roads. If they're going to be out there are they going to make sure 610 is going to be taken care of," asked Sellers. "There's wear and tear on the road, and it's a heavily-traveled road."
Quantico officials point out that the LAVs are "road ready" and use pneumatic tires, not tank tracks; the same kind of tires you would find on any truck. As more Marines return home from Iraq and Afghanistan, there is the potential that even more training will be conduced on base to warfighters can maintain their training.
But the military vehicles, like large trucks, are heavy, and vehicle weight is something that Virginia State Police monitor at places like truck weigh scales along interstate highways.
"Weight matters, and tanks are not light," Stafford Rockill District Supervisor Cord Sterling chimed in.
Sterling also serves on Virginia's Commonwealth Transportation Board with whose entire mission is highways and transportation.
Base officials say Stafford residents shouldn't be alarmed to see the LAVs on Va. 610.
"Tactical vehicles are designed to support military and humanitarian missions and as such will look different from something you would drive off the showroom floor at a dealership. But as far as contact with the road and impact on infrastructure are concerned, most military vehicles are similar to their civilian counterparts," said Quantico spokesman 2nd Lt. Matthew Rojo. "Also, because safety is one of our top priorities it important to mention that each military driver is specially licensed to operate their vehicles to ensure the roads are safe for all who share them."
Officials from Stafford County who worked on the Joint Land Use Study told Sellers and Sterling that more discussion needs to take place between the county and the base, and that Stafford County could provide some type of escorts for the military vehicles during evening hours when traffic on Va. 610 is lighter.
There has also been discussion about building a road on the base itself so vehicles wouldn't have to use Va. 610 at all, but there is currently no funding for such a military thoroughfare.
Post Your Email Notices, Press Releases, Event Fliers, and Photos
Subscribe to the weekday Breakfast Links email FREE!
Get
updates straight to your inbox.