Police Nab Driver After Car Explodes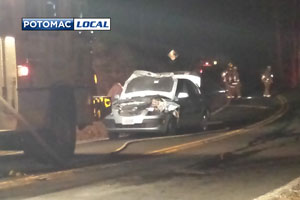 PRINCE WILLIAM COUNTY, Va. — A car traveling on Joplin Road hit a tree and burst into flames late Thursday. The driver then jumped out the burning vehicle and fled into the surrounding woods.
Fire and rescue crews were called to mile post 20 on Joplin Road, about three miles south of the Prince William County Public Schools complex, about 9:15 p.m. They found an abandoned SUV fully engulfed in flames.
A second fire engine was called to the scene after the first engine ran out of water trying to douse the blaze. Police were called shortly thereafter to find the driver, who was found in the woods near the crash scene.
It was unclear at time if the unidentified male was injured or why he fled the scene of the crash, said Prince William police Sgt. Carl Carter.
A potion of the 2-lane Joplin Road, which links Interstate 95 and U.S. 1 at the main entrance of Quantico Marine Corps Base and Independent Hill in central Prince William County, was closed for the duration of the accident investigation.
A crew from the Dale City Volunteer Fire Department offered a night vision camera to police in an effort to help find the missing driver. Fire crews said they carry the camera on their trucks and use it when they need to locate people who could be trapped inside a burning house.
Post Your Email Notices, Press Releases, Event Fliers, and Photos
The FREE email packed with local news
The FREE email packed with local news
The FREE email packed with local news
Sign Up