Updated: Amber Alert for Missing Child Canceled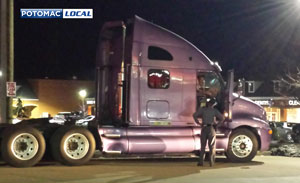 Updated
The Amber Alert has been canceled. Prince William County Police noted he was found safe at home with family.
HAYMARKET, Va. — Caution flags went up quickly Thursday night in Haymarket after purple truck  that nearly matched the description of a vehicle described in an Amber Alert was spotted at a gas station.
A Virginia State Police trooper about 8 p.m. questioned the driver of a purple trailer that was parked outside a Sheetz gas station on Washington Street. Someone called 911 to report the truck.
The trooper who questioned the driver told Potomac Local News that the truck was not the vehicle that was listed in an Amber Alert issued just minutes earlier for 11-year-old Lucas Ezra Silas Guinn, missing from Russell County, Va. since 11 a.m.Thursday.
Here's the actual Amber Alert that was posted:
THE VIRGINIA STATE POLICE AND VIRGINIA MISSING CHILDREN CLEARINGHOUSE HAVE ISSUED AN AMBER ALERT FOR A CHILD ABDUCTION ON BEHALF OF THE RUSSELL COUNTY SHERIFF'S OFFICE IN RUSSELL ON 03/20/2014 AT 11:15 AM.

THE RUSSELL COUNTY SHERIFF'S OFFICE IS LOOKING FOR LUCAS EZRA SILAS GUINN, WHITE, male, AGE 11 years old, HEIGHT 4 feet 08 inches, WEIGHT 84 lbs, WITH BROWN EYES AND BROWN HAIR, WEARING RED & BLACK shirt, BLUE JEANS pants.

THE CHILD IS BELIEVED TO BE IN EXTREME DANGER AND WAS LAST SEEN AT LEBANON MIDDLE SCHOOL, LEBANON, VA, RUSSELL, VA.

THE CHILD IS LIKELY ABDUCTED BY JIMMY DONALD GUINN, WHITE, male, AGE 67 years old, HEIGHT 5 feet 11 inches, WEIGHT 235 lbs, WITH BLUE EYES AND BROWN/PARTIALLY GRAY HAIR.

THEY MAY BE TRAVELING IN A 2004 PURPLE FREIGHTLINER TRACTOR, LICENSE 78471PY, VA, UNKNOWN (POSSIBLY NORTHBOUND TOWARDS WEST VIRGINIA OR OHIO).

PLEASE CONTACT THE RUSSELL COUNTY SHERIFF'S OFFICE AT (276)889-8033 OR THE VIRGINIA STATE POLICE AT 1-800-822-4453 (1-800-VACHILD).
Since the truck in the Sheetz parking lot nearly matched the description of the one listed in the Amber Alert, many drivers fueling up were concerned when they spotted it.
"That's the truck," one woman shouted to Potomac Local News while we were on the scene.
We told the woman what Virginia State Police told us, that it in fact was not the truck. But that didn't stop others who had all seen the Amber Alert appear on their cell phones from standing and staring at the truck.
The truck outside Sheets was registered in Indiana with license plates from that state. The markings on the door stated "Trailer Freight, Inc.
The driver appeared to be in the sleeper section of the truck when the state trooper knocked on his door and questioned him. He was not sitting in a driver or passenger seat, and the driver returned to the sleeper cabin after the trooper left the scene.
Post Your Email Notices, Press Releases, Event Fliers, and Photos
Subscribe to the weekday Breakfast Links email FREE!
Get
updates straight to your inbox.