U.S. 1 Widening Scores Low in 1st Round Funding Review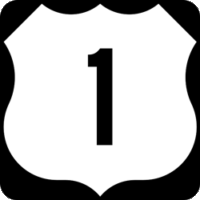 WOODBRIDGE, Va. Improvements to Fairfax County Parkway and Interstate 395 south scored highly on regional wish list of needed traffic improvements.
A total of 32 transportation projects went through a pre-qualification funding screening, and the results have been accepted by Northern Virginia Transportation Authority – the government agency that will dole out some $200 million for highway improvements in Northern Virginia. The funds will come from the landmark transportation improvement bill signed into law in 2013 by then Gov. Robert F. McDonnell.
Improvements to Fairfax and Loudoun County parkways scored 78 and 61, respectively, out of 100 possible points. Improvements to Godwin Drive in Manassas scored 53, and widening U.S. 1 in both Woodbridge and Dumfries scored lower on the scale each netting a 41 and 48, respectively.
MORE to the STORY: The entire list of pre-qualification scores and projects can be seen in this presentation.
All of the aforementioned projects were submitted by localities at the request of NTVA. The agency received 38 fewer projects than expected during its first year.
Four projects were submitted by officials in Richmond on the Commonwealth Transportation Board to include building interchanges on Prince William Parkway at Minnieville and Smoketown roads in Woodbridge, widing Va. 7 which runs in Fairfax and Loudon counties, adding a new lane to I-395 south in Alexandria, and improving U.S. 1 at Fairfax County Parkway. Of the four CTB projects, improvements to I-395 ranked the highest and the Prince William Parkway interchanges the lowest.
To be considered for funding, the projects must have been regionally significant and must be designed to relive traffic congestion on area roadways. Transit projects for buses and rail were not considered in this round of funding for FY2015.
NVTA's Chairman, and Prince William County Coles District Supervisor Marty Nohe said some of the scores are hard to justify at this point, especially the low scores on widening potions of U.S. 1 in Woodbridge.
"That is a surprisingly low score. Compared to other projects, it's supposed to be measured on congestion relief and regionalism…it is very difficult to argue that the Route 1 widening project is not regionally significant, and that it won't relieve a lot of congestion," said Nohe.
Projects that were closer to the Capital Beltway, with the prospect of improving the commute for more drivers, appeared to have scored better on the initial screening.
Now the pre-qualifying scores will go to the CTB in Richmond for acceptance.
The projects will once again be evaluated during another round of scoring where officials from NVTA, the Virginia Department of Transportation, and local governments will once again evaluate what traffic improvements need to be funded first. Nohe says a "highly technical" rubric of 16 to 17 conditions will be used to once again score each project.
A final list of projects that will be funded by NVTA is expected in December.
Post Your Email Notices, Press Releases, Event Fliers, and Photos
Subscribe to the weekday Breakfast Links email FREE!
Get
updates straight to your inbox.