Toll Gantries Going Up Along I-95 Express Lanes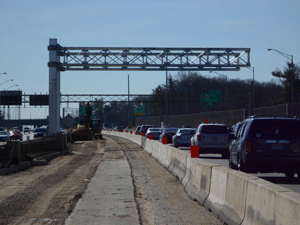 It's a clear sign that the Interstate 95 Express Lanes Project is moving along.
The first six of 30 new overhead toll gantries have been installed along the project corridor from Edsall Road to North Stafford. The gantries will allow drivers on the Express Lanes to pass under them and will read EZ-Pass transponders used to pay tolls, which will be required in each vehicle to use the lanes.
The first gantries have been placed above the existing High Occupancy Vehicle lanes near Edsall Road. The HOV lanes north of Edsall Road are not included in the Express Lanes project, however, the HOV lanes south of Edsall Road will be converted to toll lanes at all times of the day when the project is complete in early 2015. Those lanes are also being extended south from Dumfries to Va. 610 in Garrisonville as part of the project.
Over the coming months, crews will work to install the remaining overhead gantries housing the technology, including E-ZPass readers and cameras, used to manage the Express Lanes at 15 locations along the 29-mile project corridor, according to a press release.
Express Lanes spokesman Michael McGurk said the company that will operate the lanes, Transurban, is getting ready to launch a regional awareness campaign aimed at educating drivers about the importance of getting an EZ-Pass or EZ-Pass Flex. The electronic tolling device that allows an automatic debit from a credit card that already works along the majority of toll roads in the northeast and on the 495 Express Lanes on the Capital Beltway will be required to use the lanes on I-95.
The Flex transponder allows drivers to switch between single-driver mode and carpool mode. While in carpool mode, drivers with three or more occupants inside their car will be able to use the lanes for free.
Drivers who don't already have an EZ-Pass can order one online.
Post Your Email Notices, Press Releases, Event Fliers, and Photos
Subscribe to the weekday Breakfast Links email FREE!
Get
updates straight to your inbox.