Die Hard Gym Buffs Use Jeeps to Keep Lights on During Blackout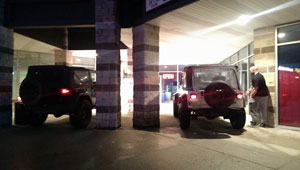 WOODBRIDGE, Va. — A storm, a power outage, and the sudden presence of the fire department didn't stop people from getting in a good workout at Powerhouse Gym.
A storm rolled through the Woodbridge area about 6:30 p.m. Wednesday night knocking out the power to Powerhouse Gym on Golansky Boulevard, as well as other businesses next to the gym in the area of Smoketown Road and Prince William Parkway, for about five hours, said gym owner-operator Kelly Kirk.
About the same time fire and rescue crews were called to a nearby doctor's office. They reported a haze and a burning smell inside the doctor's office but no fire was found, said Prince William fire and rescue spokesman Kim Hylander.
All of this spelled a very eventful night for gym rats, some of whom might have been turned away from a workout room without TVs, music, or something as simple as lights. But that wasn't the case here, as Kirk posted the following message to his Facebook page:
"… no one missed a rep. Bodypump rocked, in the dark. Cardio was killin it. Heavy iron was bein tossed… Boxing was blind… All IN THE DARK!
But the gym didn't stay dark for the entire five hours. Two gym members pulled their Jeeps onto the sidewalk in front of the gym, turned on their headlamps, and lit the interior of the gym so the workouts could continue.
The gym was one of thousands of customers that lost power following last night's spring-like storms.
Post Your Email Notices, Press Releases, Event Fliers, and Photos
Subscribe to the weekday Breakfast Links email FREE!
Get
updates straight to your inbox.