Tacketts Mill Opening New Performance Theater, Repositioning Center as Arts Hub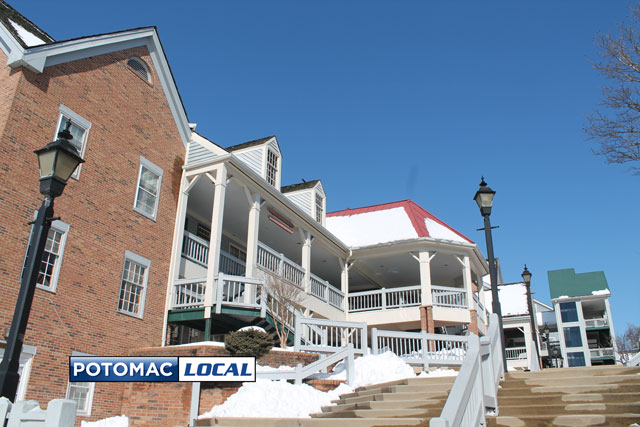 Could Prince William County's very first town center become an arts destination?
Tacketts Mill in Lake Ridge, a lakeside development that took its architectural cues from buildings in Colonial Willamsburg when it was built in the late 1970s, is a mix of traditional retail shops and largely vacant office spaces anchored by a Safeway grocery.
After years of decline, the center has applied for an ArtPlace grant and, if they are successful, will convert a total of 5,673 square feet of vacant office into an art gallery and studio, space for up to eight "artists in residence" to produce their creative works at the center, a total of three art galleries, and two classrooms.
Theatre, art spaces to open
The new creative spaces will be in addition to an art studio that opened late last year in a space once occupied by a major movie theater, and the soon-to-opened Ebeyana Studio Theatre that will feature live performances from live comedy to dramatic interpretations.
"Over 13,000 residents live within a one-mile radius. 50% have greater than a one-hour commute in one direction every day. On evenings and weekends they do not want to leave their community, which is a now essentially a cultural desert," Tacketts Mill CFO Nancy Kyme wrote in her grant application.
In December, the center hosted a Holiday Arts Market, its first in what they hope will be a string of new events to bring more people to the center. Culinary demonstrations, open-air markets, as well as sculpture and mural exhibitions are also envisioned here.
Workhouse Arts Center would be a neighbor
The center has already been successful in attracting artists across the Occoquan River from the nearby Workhouse Arts Center in Fairfax County, said Kyme. The Workhouse, after spending months in dire straits, last month announced learned Fairfax County officials would assume $30 million in debt incurred by the facility in an effort to keep it open.
Once a popular attraction
Tacketts Mill was a vibrant center in its heyday and included a working watermill, restaurants, and lakeside shops. But retailers at this town center were lured away from the development when other nearby destinations like nearby Potomac Mills mall opened and expanded, said Kyme.
Buried underneath center's watermill is a time capsule buried in March 1985 that is set to be opened in May 2019. Kyme said she would like to have the center bustling once again, and the water turned back on at the mill when by the time the capsule is opened, to in hopes of a renaissance celebration for the center.
Community interest meeting
There is an contingent of locals who remain interested in the future of Tacketts Mill. Many have demanded Trader Joes set up shop in the center, which prompted Occoquan District Supervisor Mike May to write a letter to the company urging them to consider the shopping center for a future store opening.
The Occoquan – Lake Ridge Civic Association has planned a "What do you Want to See at Tacketts Mill" meeting for Thursday, Feb. 20 at 6:30 p.m. at the Prince William County Government Center's McCoart Building Occoquan Conference Room.
"Tackett's Mill is the heart of our community along Old Bridge Road and serves as an access point for commuters, public transportation, shopping, dining, businesses services, office space, residential housing, senior housing and a library," the association states on their webpage.
Post Your Email Notices, Press Releases, Event Fliers, and Photos
Subscribe to the weekday Breakfast Links email FREE!
Get
updates straight to your inbox.