Biggest Snowstorm of Season to Impact Region after 8 p.m., Power Outages Possible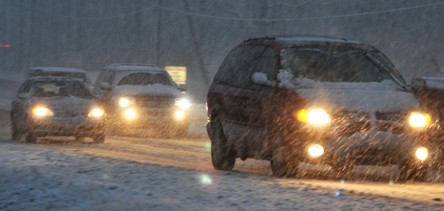 In case you haven't heard, there is a major winter storm bearing down on our area.
The snow is expected to begin falling tonight in Central Virginia between 5 and 7 p.m., putting in Northern Virginia sometime after 8 p.m. A winter storm warning is posted for the region between 8 p.m. and 3 p.m. Thursday, and with temperatures well below the freezing mark outside what falls will all begin as snow.
Snow lovers can expect between 5 and 8 inches of snow and sleet to fall during this storm, which will impact our area tonight, through the overnight, and into Thursday. Once the snowfall begins it'll accumulate fast, as much as 1 to 2 inches per hour in some areas, according to the National Weather Service discussion site.
Drivers urged to stay off roads after 8 p.m.
Roadway conditions will deteriorate rapidly due to the falling snow, and by morning, we can expect to see up to six inches of snow already on the ground making this the largest winter storm to impact us this season.
State of emergency 
Gov. Terry McAuliffe has declared a state of emergency across Virginia, which allows officials to mobilize the National Guard to assist snowbound residents.
Highway crews in our region are also preparing for the storm by pre-treating roadways with a mixture of salt brine to make it easier for plow crews to remove the snow from the road once it begins falling. Drivers have been urged to stay off the roads during the storm, and 4,000 plow trucks will be ready to go at the beginning of the storm.
Potential for power outages 
You can follow the Virginia Department of Transportation's plow efforts online. Officials said crews aim to have all streets and roadways within the VDOT system plowed at least 48 hours after the storm ends, which will be sometime Thursday night.
Power crews are also on standby, as the heavy wet snow is apt to cause power outages in the region. NOVEC customers are urged to call 703-335-0500 or 1-888-335-0500, and Dominion Virginia Power customers should call 1-866-DOM-HELP (366-4357) to report power outages.
Tricky forecast
Forecasters are closely watching this storm and have said it will be a tricky one for forecast. As per usual, our region is very near the rain / sleet / snow line that is expected to set up over the Chesapeake Bay and, if the precipitation changes over to sleet or rain, that could overwhelmingly cut down on snow totals, officials said.
Post Your Email Notices, Press Releases, Event Fliers, and Photos
Subscribe to the weekday Breakfast Links email FREE!
Get
updates straight to your inbox.