Snow on the Way, Forecasters Closely Watching Track of Storm off Atlantic Coast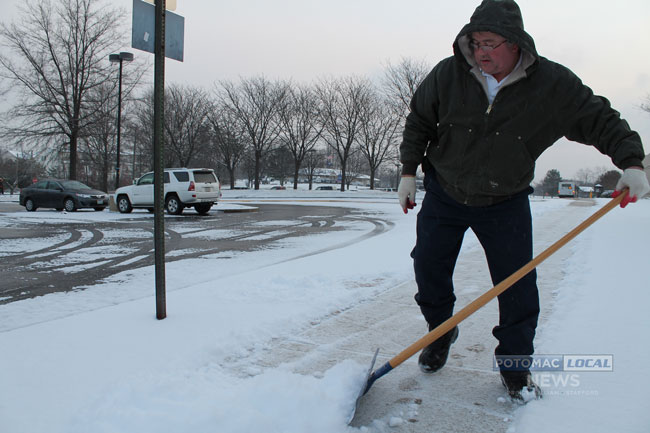 Snow chances for our region look good for now, and a winter storm watch has been posted for our region. That watch will go into effect Wednesday morning and last until Thursday night, when we could see five or more inches of snow and sleet in our area.
Temperatures will drop to the upper 20s Wednesday night and only rising into the 30s on Thursday. And it'll be windy with wind gusts reaching 35 mph speeds, according to the weather service.
The snow will be heavy and wet and could cause some power outages. If it comes, it will be moving ahead of some very cold temperatures expected to set in over our region on Tuesday.
THE UPPER-LEVEL FLOW WILL BECOME MORE AMPLIFIED WEDNESDAY AND THURSDAY…WHICH MAKES THE FORECAST TRICKY DURING THIS PERIOD. FIRST THINGS FIRST…WITH CANADIAN HIGH PRESSURE TO OUR NORTH THERE WILL BE PLENTY OF COLD AIR FOR PRECIPITATION TO BE FROZEN.

A SHORTWAVE ASSOCIATED WITH THE NORTHERN STREAM OF THE JET WILL DIVE INTO THE CENTRAL CONUS WEDNESDAY WHILE ANOTHER SHORTWAVE IN THE SOUTHERN STREAM OF THE JET TRACKS ALONG THE GULF COAST STATES.

LATEST GUIDANCE HAS CONVERGED ON A SOLUTION THAT PHASES THESE SYSTEMS TOGETHER…CAUSING COASTAL LOW PRESSURE TO DEVELOP.

HOWEVER…THE TIMING…TRACK AND INTENSITY OF THE LOW REMAIN UNCERTAIN AT THIS TIME. THE LATEST TREND IN THE 00Z GUIDANCE HAS BEEN FOR THIS SYSTEM TO PHASE EARLIER…CAUSING LOW PRESSURE TO INTENSIFY QUICKER AND TRACK CLOSER TO THE COAST. THIS SCENARIO WOULD BRING SIGNIFICANT AMOUNTS OF PRECIPITATION TO THE AREA…CAUSING THE POTENTIAL FOR A MAJOR WINTER STORM. HOWEVER…SOME GUIDANCE INCLUDING THE 00Z GFS PHASES THIS SYSTEM LATER…CAUSING THE LOW TO TRACK FARTHER AWAY FROM THE COAST ALLOWING FOR MUCH LIGHTER AMOUNTS OF PRECIPITATION ACROSS OUR AREA.

THE DEGREE OF UNCERTAINTY BETWEEN THESE TWO SCENARIOS IS HIGH…BUT

THE FORECAST HAS BEEN TRENDED CLOSER TO THE FIRST SCENARIO BASED ON THE LATEST DETERMINISTIC RUNS ALONG WITH SUPPORT FROM THEIR ENSEMBLES.
With this forecast including the potential for a coastal low to develop off the Atlantic Ocean to bring in ocean moisture, these are, historically, the types of snowstorms that can clobber our region.
Winter storm watches are also up for counties in Southwest Virginia where they're already expecting 5 to 8 inches of snow, and up to 10 inches of snow in localized places. Forecasters at the National Weather Service are watching the coming storm closely and say the forecast could very well change as the storm gets closer.
Post Your Email Notices, Press Releases, Event Fliers, and Photos
Subscribe to the weekday Breakfast Links email FREE!
Get
updates straight to your inbox.