Major Roads in 'Minor' Condition with Icy Patches, Side Streets Snow Covered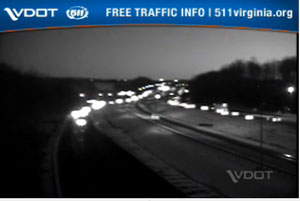 Take it slow out there this morning as there are reports of minor ice patches on roads across the region.
In Prince William County, major roads like Va. 234 and Va. 123 all are reported to me in "minor" condition (low on the Virginia's Department of Transportation's worry index) but all of the major roads have icy spots on them.
The same goes for roads in Stafford County.
VDOT spokeswoman Kelly Hannon of the Fredericksburg District, which covers Stafford County, released this statement this morning:
Motorists traveling this morning should use additional caution, as primary roads throughout the Fredericksburg District are mostly covered in snow, with complete snow coverage on most secondary roads and subdivision streets.

Interstate 95 is in minor condition, with isolated areas of snow on the pavement. Virginia Department of Transportation (VDOT) commuter lots have been plowed and treated.
List of closings and delays for today
Plow crews worked overnight to continue clearing streets, starting with the major thoroughfares that carry the most traffic. Side streets are still snow covered, so officials advise caution as you travel on them this morning.
VDOT's goal is to have all roads plowed within 48 hours after the passing snowstorm which moved out last night, so crews will continue to work 24 hours a day in 12-hour shifts until the roads are clear.
Post Your Email Notices, Press Releases, Event Fliers, and Photos
The FREE email packed with local news
The FREE email packed with local news
The FREE email packed with local news
Sign Up