Moser: 'Pyramid Project' at Prince William – Manassas Line Very Tempting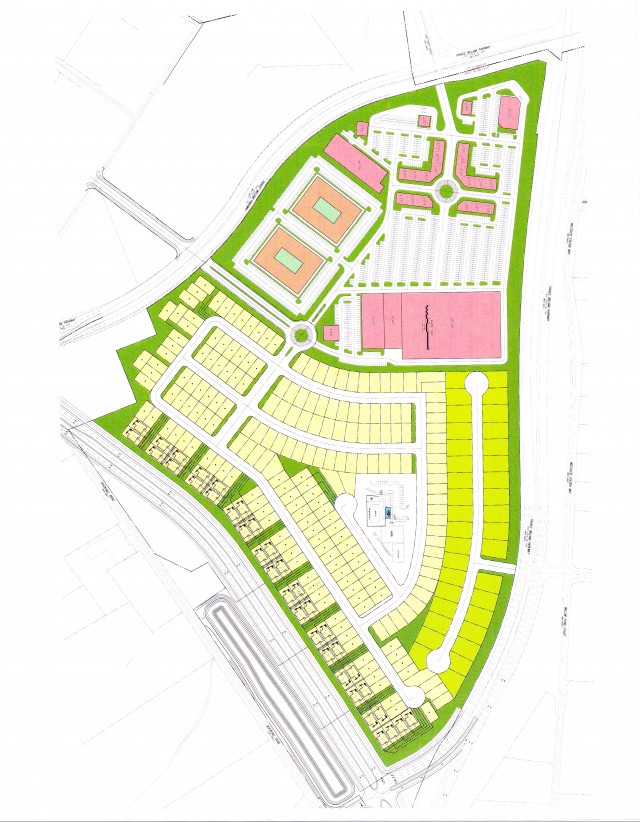 I had a pretty amazing experience this week when I attended a MIDCO (Mid-County Civic Association) meeting with about 75 other interested citizens!
Why is that amazing? Well, typically the number of citizens attending a MIDCO, NAA, (Neabsco Action Alliance) OLRCA  (Occoquan Lake Ridge Civic Association) or a LOCCA (Lake Ridge Occoquan Coles Civic Association) is around 25 people. There were so many people in the Occoquan Room at the County Center that we had to move to another, larger meeting room on the other side of the building.
The number of residents seemed appropriate to opine on the Pyramid Project, a huge proposed development at the corner of Liberia and the Prince William Parkway. This development is intended for 101 acres of land at a premium intersection dividing Manassas and Prince William County.
The original proposal has undergone a number of changes since submission in August of 2012, most recently updated on the county web as of March 2013. At the MIDCO meeting, Developer Carlos Montenegro brought an even more recent version of the proposal that further reduced the number of residential units.
The project is very tempting, both for the county and residents because the development will include a change to the Prince William County Parkway that will alleviate congestion at that failing intersection at Liberia and the Parkway.  (If you want to learn how VDOT determines a failing intersection, try pages 24 and 25 of this hefty document! )
I think a few things merit consideration:
If we change the comprehensive plan as requested we will be removing yet another CEC (Community Employment Center) designation and adding more residential.
PWC staff, residents and the developer should also be working in tandem with Manassas because this development will definitely impact the city.
While the realignment of the Parkway will provide relief to residents wishing to turn left to go to Rte. 234, It really does nothing for people travelling into the city or turning right on Rte. 28 toward I-66. (The same is true in reverse if you are leaving the city.)
The development may be alleviating traffic at that intersection, but it is still adding cars from 300 homes and 400 apartments.
While alleviating traffic at that intersection, what about the next intersection or the one after that?
The development promises high end retail, but Virginia Gateway is only 11.3 miles away from the intersection of Liberia and the Parkway. What about the competition to Hastings Marketplace right across the street? What are the impacts on schools? The developer is proffering this massive piece of roadwork…there likely won't be any school proffers from this deal.
One of the reasons Neabsco Action Alliance was founded is to work collaboratively across districts with residents, business and government. We are part of group called FOCAL (Federation of Civic Associations for Land use). We invite residents to contact us, come to our meetings, attend the planning commission hearings, attend (or watch online) the Board of County Supervisors meetings, sign up for e -notifications, or any other way you choose to become engaged in your community.
You may think this development doesn't impact you. I assure you it does. We may live in seven different districts in Prince William County, but we are all connected by roads, jobs, schools, healthcare, land use, transportation, and that one indefinable esthetic; community.
There is one thing I want you to remember. If you weren't one of those 75 people, we don't know what you think of this proposed development. You can tell me in the comments. I'll be sure to share them.
Post Your Email Notices, Press Releases, Event Fliers, and Photos
The FREE email packed with local news
The FREE email packed with local news
The FREE email packed with local news
Sign Up