Alborn: Fly Fishing Group Meets at Quantico, Gives Vets a Chance to Heal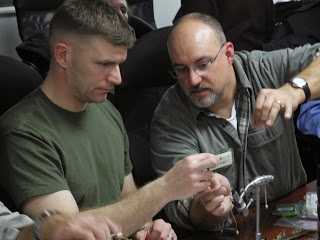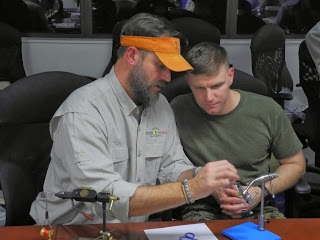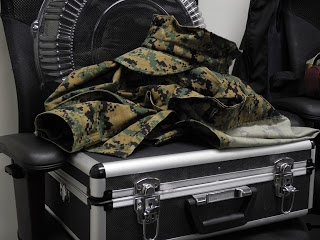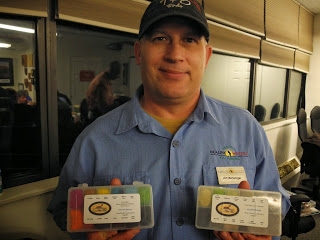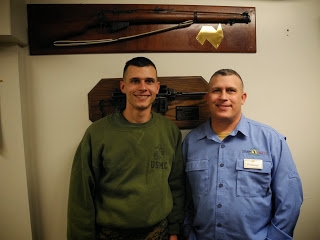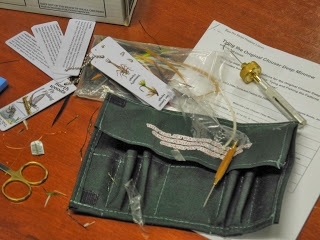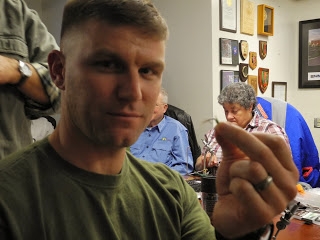 I am a fly fisherman.
I have been wandering around the Appalachian backcountry for years in search of native Brook Trout in the crystal clear headwaters of mountain streams. It's a solitary journey that I take to recover from 22 years as a career soldier and another 15 in technology business.
I find that nature and solitude heal the scars that have accumulated on my soul.
That's why I was intrigued when I started hearing about a project set up by fly fisherman to help fellow Veterans with a few scars on their bodies and minds heal. It's called Project Healing Waters.
Given the name of the project, I intuitively understood.
There are several programs in the Washington, D.C. area; however, Duber Winters, the Manager of "my" Orvis Store, and Beau Beasley, a fellow outdoor writer, kept point me to the Quantico Program.
I grabbed my camera and headed out on a snowy winter Tuesday night to see what was going on. I wasn't sure what to expect. I understood that the program was designed to help injured military service personnel and disabled veterans.
Was this going to be "touchy feely" stuff or a bunch of guys telling "war stories?" Maybe it would feel like hanging out at the VFW?
It was none of those things.What I found was a bunch of fly fisherman… doing what fly fisherman do when they aren't. fishing… talking about fly fishing… and tying flies.
Tonight, they were here to learn how to tie the Original Clouser Deep Minnow.
A few were in uniform, most not. Uniform Blouses were stacked on the sidelines. Rank didn't matter in this room.
There were a few young active-duty Marines, a few retired service members, some middle age guys, and some fellow "more experienced" (a polite way to say senior citizens) fly fisherman (like me). All were sitting around a table littered with feathers, hooks, thread, and fly tying vices. It was a mixed group of men and women who had all come together for one reason.
I slowly began to understand. These folks. all of them, active duty — veterans — civilian volunteers: all came together for the same reason I head into the woods with my fly rod for a chance to concentrate on something other than the scars on their bodies and souls — for a chance to learn to tie one more fly that they can use on some river or stream, or to seek the therapeutic benefits of being one with nature.
This program wasn't just about the young Marines — this was about Veterans of all ages, and perhaps those who served in other ways — to forget for a while, and just think about fishing.
Many of us who fly fish long ago came to the realization that our venture into new waters with a rod and a few flies often has little to do with actually catching fish.
These guys have a lot of sponsors big and small. Some folks provide money, others materials, others sweat equity.
Folks like Jim Bensinger, owner of Fiber Flies, was there as a volunteer and materials donor. His son, James (an active duty Marine) was at the table working on a fly.
There will always be a shortage of the money and resources to grow this program to the size necessary to support the veterans returning from today's wars, and those long forgotten wars from the past. You read the same news I do. Government money just won't be enough in the future.
There are many good programs out there, but one size doesn't fit all. Some are better than others. This is one of the good ones. I checked them out (as in "pulled their IRS 990), and noted that they are a well managed, volunteer organization that puts of its money into programs to support veterans.
I write my checks to not-for-profit groups in December. I plan to add Project Healing Waters to my list. You may find many ways to donate here. If you have a special program in your State or community you would like to support, just add its name to the donation.
My donation will go to Project Healing Waters – Quantico. The journey is the reward.
Al Alborn is a Prince William County resident and author of The Virginia Trout Bum.
Post Your Email Notices, Press Releases, Event Fliers, and Photos
Subscribe to the weekday Breakfast Links email FREE!
Get
updates straight to your inbox.