Prince William Police Officer has Record DUI Arrests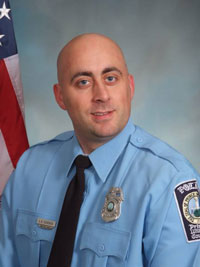 Submitted News
For the fourth consecutive year, Police Officer Jeremy Schenck was awarded a Law Enforcement Award of Excellence for "outstanding commitment in the fight against drunk driving in the Greater Washington area" from the Washington Regional Alcohol Program (WRAP).
The awards ceremony was held today in McLean, Va.
Officer Schenck, a 13-year veteran of the Prince William County Police Department, was one of 12 Washington-metropolitan area police officers recognized by WRAP at its annual awards banquet today. His 165 DUI arrests comprised the second-highest total of all the awardees, who represent a dozen different Washington-area law enforcement agencies.
Officer Schenck attributes his unmatched record to superior training and close observation of driving behaviors associated with drunk driving: lane drifting and subtle evasive moves such as turning down a side street or driving below the speed limit.
Prince William County's DUI enforcement efforts include sobriety checkpoints conducted at certain times throughout the year, participation in state and national impaired driving education and enforcement campaigns, and local public education through the use of electronic sign boards on roadways and on displays in public buildings.
Founded in 1982, WRAP is an award-winning public-private coalition formed to fight drunk driving, drugged driving and underage drinking in the Washington-metropolitan area. This is the 13th year that WRAP has conferred these awards on law enforcement officers from throughout the region.
Through public education, innovative health education programs and advocacy, WRAP is credited with keeping the metro-Washington area's alcohol-related traffic deaths consistently lower than the national average. Area residents, however, may best know WRAP through the organization's popular, free cab-ride service for impaired drivers, "SoberRide."
Post Your Email Notices, Press Releases, Event Fliers, and Photos
Subscribe to the weekday Breakfast Links email FREE!
Get
updates straight to your inbox.