Moser: Why Build More Roads if People are Driving Less?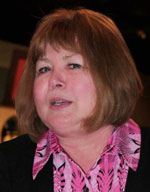 Opinion
Do you watch television? I bet you think that's a funny question. Your response was probably something like, "Of course! Doesn't everyone?" In fact, last year, the cable, satellite and telecoms providers added just 46,000 video customers collectively, according to research firm SNL Kagan. That 46K is a pretty small percentage of 974,000 new households that were created last year.
That's not to say people aren't watching anything that is televised, but it does mean that less people are signing up for traditional subscriptions and more are resorting to services like Netflix or Hulu. I don't watch regular television at all, but I do watch TED on my computer. I also watch the Prince William Board of County Supervisors meetings.
I found last week's meeting to be particularly interesting, as the discussion on the Bi-County Parkway resulted in several motions after presentations by county staff and fervent citizens. I've avoided making a public statement on this topic because up until this week it seemed to me to be a battle between residents and transportation officials and each side has seemed well armed to make their own arguments. I've followed the discussions through "Say No to the Bi-County Parkway" on Facebook and read the prodigious amounts of information sent to my inbox.
I read the blogs, but usually as a kind of barometer to gauge the sentiments of those vocal folks and their admirers and detractors. I don't usually comment, but if I do, you will always see my name. I made an exception to my "almost never comment" policy when my friend, Al Alborn, made this post.
I was moved to respond, because that post resonated with me. I don't want to keep doing things the same old way to achieve the same old results. Haven't you ever asked yourself, "Why, if we keep building roads, does it keep taking longer to get to our destination?" On Al's blog, I mention self-driving cars and drone package delivery. Transportation is changing. Whether you believe it or not, whether you want it or not transportation is changing.
This story from Grist talks about a decline in driving. This story from the Washington Post states Americans are driving 7.6 percent fewer miles per year than they did in 2004. All across the United States, people are actually driving less miles per year and that's after removing variables like the recession.
We're building miles and miles of hiking trails, walking paths and bicycle lanes and guess what? People are using them. People who used to have to drive to an office five days a week can now work from the comfort of their home. There is more public transportation available. The price of cars, insurance, repair costs, gas and time lost in traffic are outweighing the private automobile.
We keep adding roads, lanes, lights, signs and striping…what if we're doing that all for nothing? Many cities are experimenting with no signals. It sounds inconceivable, but it is certainly working in Poynton, England where they have made an effort to revitalize their community.
The way we build homes changes as we use more Earth-friendly products. The super large houses of the last decade make way for smaller more comfortable homes for today. Cars change, people change, ideas change. Everything changes, whether it's television, computers, telephones, hair color or road building.
Let's not build a road that changes nothing but just gives us more of the same.
Post Your Email Notices, Press Releases, Event Fliers, and Photos
The FREE email packed with local news
The FREE email packed with local news
The FREE email packed with local news
Sign Up