Aquia Harbour's New Police Station Opens
NORTH STAFFORD, Va. — There's a whole new meaning to the phrase "you're going downtown" in Aquia Harbour.
The gated community of 2,300 homes in North Stafford celebrated the opening of the neighborhood's first police station. A dedication ceremony was held Friday afternoon. 
A three-year project, the new station includes 1,600 square feet of space, two offices, an area for patrolmen to work, and a new locker room. It's the first time since the community opened in 1969 that the community-funded police force has not been located in the development's original home sales office.
Police Chief Trish Harman said the new building is not only designed to better serve her seven-member force, but it also community gathering place where residents can meet with law enforcement.
"If you saw my vision for what we wanted the building to look like, and then take a look at what the architects and contractors delivered, it's incredible how similar they are," said Harman.
She was on Prince William County police force when its two major stations were built – the Gar-Field, or Eastern District Station in Woodbridge, and the Western District Station near Manassas. Harman said she took some pages of Prince William's book when it came to the design and implementation of this new police station.
Interactive Photo Gallery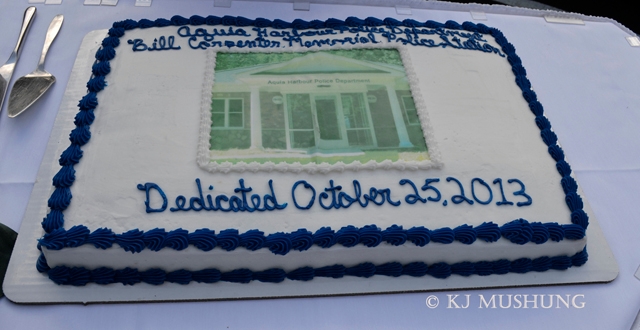 Post Your Email Notices, Press Releases, Event Fliers, and Photos
The FREE email packed with local news
The FREE email packed with local news
The FREE email packed with local news
Sign Up