I-Walk for ACTS in 3rd Year, Benefits Area Food Pantry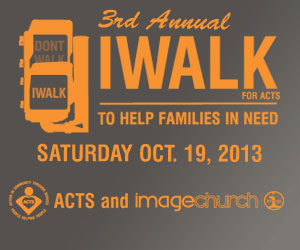 DUMFRIES, Va. — The annual I-Walk for ACTS will be held this weekend in Dumfries. The charity walk will benefit the ACTS food pantry and those in need.
The walk is open to the public whom are invited to come and participate.
I-Walk spokeswoman Kate Shifflett in a question and answer session provided some information on the walk and how it benefits the community.
PLN: Please describe the need in the community that prompted the iWalk for Acts?
Shifflett: When Image Church was founded in Dumfries we began to look into the community for ways to get involved. We first noticed the ACTS thrift store across the street, then learned about the shelters and the food pantry. We got to know the staff, learned more about their work, their mission, their offerings and wanted to help further their reach.
We believe as a church body we are called to reflect the image of Jesus. As such we launched I-Walk for ACTS in 2011 and now are happy to host the event together with ACTS to raise funds and awareness for families struggling to make ends meet in our area. — Toby Ward, Elder at Image Church. Image Church now meets at 9:30 a.m. and 11 a.m. on Sundays at 13900 Church Hill Drive in Woodbridge.
PLN: Now that this event is in its third year, please describe the positive impacts this event has had on the community and those who benefit from it.
Shifflett: The funding from the past two I-Walks for ACTS was used to help the homeless in our community find permanent housing. The funds donated by the community was matched with funds from government agencies, foundations and corporations. ACTS through its Rapid Re-Housing program in the past 12 months was able to move 54 families from being homeless to permanent housing. Every dollar raised from the walks helped leverage two dollars in matching funds. — Robin Sheedy, Volunteer/Events Coordinator at ACTS.
PLN: How many people did you have registered for the event last year? How many so far this year?
Shifflett: Last year we had 220 people register for the walk and several hundred more onsite throughout the day for the free family festival.
PLN: Is there a preferred place to park in Dumfries for the walk?
Shifflett: Parking is available at Dumfries Elementary School, Dumfries United Methodist Church, and Town Hall.
PLN: If people can't make it to the walk, how can they still help?
Shifflett: If people can't attend this year's I-Walk but still want to help, they can make a donation online at www.iwalkforacts.com or learn more about volunteer opportunities at ACTS by visiting www.actspwc.org or calling 703-441-8606.
Post Your Email Notices, Press Releases, Event Fliers, and Photos
Subscribe to the weekday Breakfast Links email FREE!
Get
updates straight to your inbox.