In Memoriam: Robert L. Riffe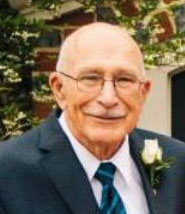 Robert L. Riffe, 84 of Locust Grove, Va. died peacefully at his home on September 26 of heart failure. Bob is survived by his wife Jean of 62 years. He is survived by his sons Robert (Pam), Richmond; Brian (Pam), Fairfax Station; Timothy (Robin), Lake of the Woods; and Steven, Jeannette, PA; 12 grandchildren– Rene', Matthew, Karen, Daniel, Erin, Richard, Michelle, Christopher, Steven, Sean, Samuel, and Cole; and 3 great grandchildren—Lennox, Gabriel, and Norah. He was preceded in death by his brothers Phillip and Noel "Babe" and is survived by his sister Betty Lou Daniel of Lester, WV.
Robert was the son of Haskell O. Riffe and Beatrice (Richmond) Riffe of Lester, WV (near Beckley). Bob attended Beckley College on a basketball scholarship. After marriage in 1951, Bob served in the US Army and was stationed in Germany. Upon return to the United States, Bob worked first as an Electronics Technician at Melpar and later at the Night Vision Laboratories, Department of the Army at Ft. Belvoir, VA, retiring in 1993.
A 44-year member of Occoquan Lodge #310, AF&AM, a member of Edward H. Cann Lodge #1752, AF&AM and served as Worshipful Master of both Lodges. Bob also belonged to the Order of the Eastern Star (OES). He was a member of Occoquan Chapter #59 Woodbridge for 43 years where he served 6 times as Worthy Patron. He also belonged to Fredericksburg Chapter #29. Bob served in various committee positions of the Grand Chapter (State of Virginia) of the OES. Bob was frequently sought after for initiations, funerals, and other Eastern Star and Masonic occasions.
Bob was active in St. Paul's United Methodist in Woodbridge; after moving to Lake of the Woods, he joined The Lake of the Woods Church where he served as a Stephen's Minister for several years.
Bob was a great father and role model for his four children. Known as "Poppy" to his 12 grandchildren, Daniel Riffe posted the following:. "Poppy you were an inspiration, a role model and amazing grandfather! Your kind heart and gentle nature will be remembered and passed along through your beautiful wife, children and grandchildren. You have made an amazing family and we will miss you deeply but your life, your laugh and your love will live on through each and every one of us! Heaven is lucky to have such an amazing angel, I know you'll be watching over us!"
A visitation will be held from 6-8:00 p.m. on Thursday, October 3, 2013 at Lake of the Woods Church, Locust Grove, with a Masonic and Eastern Star Service to be held at 7:30 p.m.. A funeral service will be held at 10 a.m. Friday, October 4 at the church. Reverend Mike Lemay will officiate. Interment to follow at Quantico National Cemetery, Triangle, Va.
In lieu of flowers, the family requests donations to either Lake of the Woods Church or Lake of the Woods Rescue Squad. An online guestbook is available at www.johnsoncares.com