Virginia Leadership Institute Honors Neville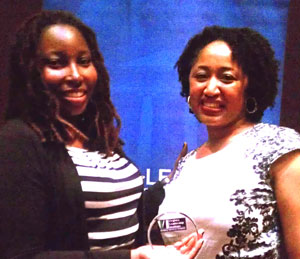 VLI in May held a reception honoring their Top 10 Under 40 honorees, at Kora Restaurant in Crystal City.
"The Virginia Leadership Institute is proud to honor young African-Americans in Northern Virginia who are raising the bar in their professions and in the community," said Virginia Leadership Institute founder and CEO Krysta Jones. "Our honorees are entrepreneurs, elected officials, military veterans, executives and community leaders. Not too long ago some Blacks avoided moving to Virginia because of the long-held stereotypes associated with Virginia's role as a slave state. These honorees prove that young African Americans are actively working to make the commonwealth a better place for all Virginians to live and work."
Neville, was honored for her work in the community. She is the Director of Community Services for the Town of Dumfries, and holds community services at the threshold of everything she does from: holding an annual "Birthday Bag Drive," to make birthdays possible for youth in transition, establishing the "You CAN do Anything Too!" Book Scholarship through the Virginia State University Foundation for parents working towards their undergraduate degree, hosting the "Be A Singular Sensation" community television show/blog for single parents/families in PWC, and offering affordable dance classes to youth through Spirit Catcher Productions.
During the reception, honorees were given a moment to address the crowd. Neville quoted Survivor Host, Jeff Probst, "Fire represents your life. As long as you have fire, you're still in the game, when you have no more fire, you're out." She encouraged the crowd to never let anyone put the fire burning inside of them, out. 
Neville currently serves on the Historic Dumfries Virginia Board, the Human Development and Education Policy Committee of the Virginia Municipal League, is a member of Zeta Phi Beta Sorority, Incorporated, Prince William County NAACP, a member of the Minority Political Leadership Institute's class of 2012, is a current member of the 2013 class of Leadership Prince William.
-Press release 
Post Your Email Notices, Press Releases, Event Fliers, and Photos
The FREE email packed with local news
The FREE email packed with local news
The FREE email packed with local news
Sign Up