Roads are Last Century's Answer, Telework is this Century's Answer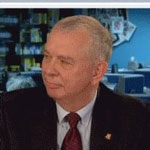 Opinion: Al Alborn
I've been thinking a lot about the commute north these days.
I was one of the many drivers that made that commute for years. Between 1988 and 2002, I dutifully woke up every morning with 105.9 tuned in on the radio, poured myself a cup of coffee from a pot set on a timer, watched TV traffic reports to see if I needed to take a different route, and then entered the darkness to drive through Clifton to get to Tysons Corner and other points around the beltway.
As the years passed, I had to adjust my alarm clock to get up a bit earlier to beat the crowd. I remember the dread of being stuck for hours with no way out while a traffic accident was cleared. I also remember two near-death experiences where my life flashed before my life (literally) as I thought I wouldn't make it to work (the first accident) on I-95 or home (the second accident) on I-66.
Now that I spend more time simply thinking, I question why so many people who don't really need to commute, well, commute. I suggest that while we have the policy and commonwealth incentives in place to allow people to work at home, at a telework center, at Starbucks or wherever while encouraging companies to let them do so, we lack the strategy to translate this policy into a meaningful reduction of people competing for ever scarcer transportation resources (road, rail, bus, slug lines, van pools, etc.)
One of my favorite books is the classic Only the Paranoid Survive by Andy Grove. It's a "cult classic" among management consultants and on my shelf of ready references when advising business and Government on how to manage change. In Grove's book, he discusses inflection points and the importance of recognize when any enterprise faces one.
Every now and then, any enterprise needs to reassess the world within which it operates and question exactly what its business mission is. It has to look out for inflection points, those changes to the fundamentals in the world within which an enterprise operates. Enterprises that recognize those inflection points increase their chances of thriving in "what's next". Those who miss inflection points are usually doomed to failure.
Recognizing an inflection point when I see one allowed me to stop commuting in 2002. Pointing them out as public policy considerations is now an amusement.
So, what's the question?
The traditional question was, "how do we move people around efficiently to get them too and from work?" In the industrial age where people reported to typewriters, factories, or shops this was a pretty good question.
We're not in the industrial age any more.
Transportation planning and technology need to converge so building roads to move people around and reducing competition for those roads become part of one solution set. Conceptually, these alternatives are variables in the same model.
I suggest that the question has changed to, "how do we move information around more efficiently to get it to the people who need it?"
Roads are last century's answer. Telework is this century's answer.
For a large percentage of our population, those folks who do something with information, there is really no reason to actually drive somewhere to add value to that information. With today's technology, you may do your job anywhere.
Government "gets" this. At the federal level, the Telework Enhancement act of 2010 mandated that every federal agency implement a telework strategy and make it available to eligible employees. In Virginia, tax credits are in place to encourage businesses to allow employees to telework.
Commuters have figured out that they waste two hours of their day, ten hours of their week, around 500 hours a year risking their lives and sanity commuting to work. I am one of many who survived two near-death experiences while commuting. Every life you take off the road for even a day is a life that's a bit safer.
People who do business with the Federal Government recognize the increased facility costs of housing people who perform contracts, lost time driving around Northern Virginia to attend meetings, and opportunity cost driving somewhere instead of developing new business.
Our transportation planners, whether they by PWC, NVTA, COG , Virginia's Secretary of Transportation, local overnments, or whatever consider technology, changes in the nature of work and the simple fact that strategies to take people off our already stressed transportation infrastructure be part of the solution.
Government and quasi-government bodies at all levels assess Northern Virginia's infrastructure to ensure we have the necessary broadband, technology, services, and policy in place to let people work at home or at a local telework center (particularly important for classified work) and integrate the results into its transportation strategy. We also need to continue developing the right federal, state and local policies to encourage and support both businesses and individuals who wish to work anywhere but a centralized office somewhere.
The right question for transportation planners is, "how do we move information around more efficiently to get it to the people who need it?" Perhaps we need a new group of "Information Planners" to develop strategies for moving information around. In any case, models developed to predict traffic flows and transportation requirements are incomplete if they don't consider the impact of applying technology to reduce the load on the system.
Letting people work at home under existing policy with available technology is a pretty simple idea. Sometimes, the simple solutions are the best answer to the question. In this case, my question is, "why not?"
Let's not miss this rather obvious inflection point. The stakes are just too high and the rewards too great. I'm not sure we can afford to do otherwise.
Post Your Email Notices, Press Releases, Event Fliers, and Photos
The FREE email packed with local news
The FREE email packed with local news
The FREE email packed with local news
Sign Up