Cajun Comes to Woodbridge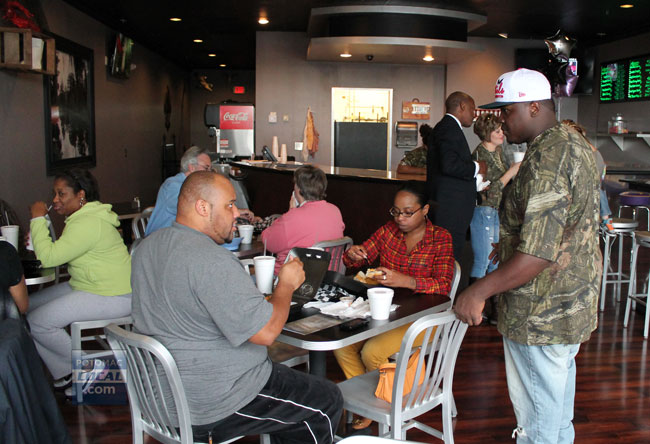 WOODBRIDGE, Va. — Its backwoods Cajun feel sets it apart from other restaurants, and this place promises to offer a little something extra every time you come – it's practically in the name.
Lagniappe (Lan-Yap) opened for the first time Tuesday to loves of down home Cajun cooking with recipes from the bayous of Louisiana. The restaurant's name might be uncommon to those in Virginia, but it's a familiar term in Louisiana that means a gift given to a customer at the time of purchase – think of it like when someone orders dozen doughnuts but they actually get 13.
Restaurant owner Angela Guiddry has lived in the Woodbridge area since 1995 and has always wanted to open a restaurant like this. Lagniappe is not a chain, but expanding is something she has considered if this restaurant succeeds at pleasing the area's Cajun appetite.
"We are hopeful it will do well," she said.
The restaurant at 12635 Galveston Court near Prince William Parkway and Hoadly Road offers a full menu, and Kitchen Manager Christopher Stewart said they are trying out new dishes to see what customers like. There's fried Boudin Balls (boo-dan) with Cajun sausage blended with rice and then fried up. There's Crawfish E'toulfee, Cajun red beans and rice, and Mumsie's Crab Meat Au Gratin. There's also Po' Boys sandwiches that come with shrimp, crawfish, or roast beef to name a few.
"This area doesn't have a Cajun restaurant. We have Chinese buffets, Mexican restaurants, and American ones to choose from. But this one is going to be a fun, family restaurant that has something different," said Erica Reid, 24, as she rung up orders behind a lunch counter.
Those who dine in Manassas are familiar with Okra's Louisiana Bistro, but owners here say their feel is less Creole and more country food. By the look of the camouflage t-shirts and pants worn by the cooks and servers, they would be right.
Lagniappe hired 10 employees to help open the eatery. Once a liquor and beer license is approved, they will also offer alcoholic drinks.
The restaurant is open 11 a.m. to 9 p.m. Monday through Thursday, 11 a.m. to 11 p.m. Fridays and Saturdays, and noon to 8 p.m. Sundays. Appetizers range between $6 and $13, and Po' Boys and other entrees range between $6 and $14.
Post Your Email Notices, Press Releases, Event Fliers, and Photos
The FREE email packed with local news
The FREE email packed with local news
The FREE email packed with local news
Sign Up