Stolen Plates Lead to Capture of Bomb-Throwing Suspect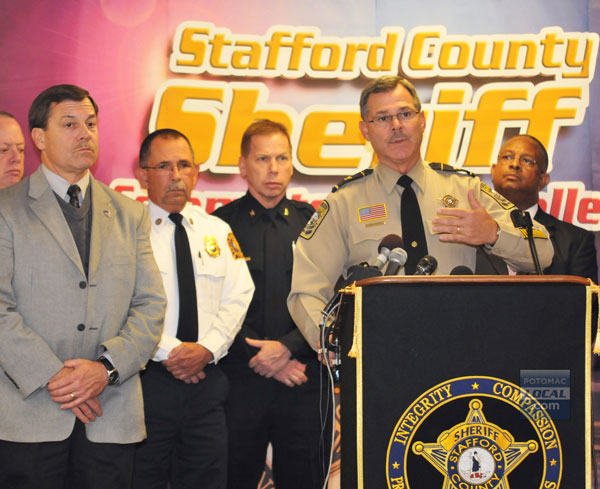 STAFFORD, Va. — A manhunt ended today with a suspect lobbing pipe bombs at police officers near the Canadian border.
Police in Montana captured 25-year-old Laurence Stewart, II, just before 2 p.m. Thursday.
He's suspected throwing three pipe bombs that exploded at homes in Fredericksburg and Stafford County early Tuesday.
Two Stafford County law enforcement officers and an ex-girlfriend appeared to have been targeted in the attacks, but were uninjured. 
Stewart was stopped at 1:15 p.m. by a police officer in Cascade County, Mont. who found stolen tags on his the vehicle. Stewart then sped when questioned and a police pursuit ensued, said Stafford County Sheriff Charles E. Jett.
From behind the wheel, Stewart lobbed pipe bombs at police officers similar to the ones used in the attacks in Virginia. At least four detonated but no one was injured.
Stafford authorities tipped off about the pursuit from police in Montana sat in their offices Thursday afternoon and listed to live audio from the pursuit.
Officers eventually used spike strips and disabled the car's tires. Stewart, armed with a handgun, fled on foot but was captured near Great Falls, Mont., at 1:49 p.m. after a brief chase, said Jett.
Officers caught their man in a town just two hours south of the U.S. – Canada border.
He remains in Montana where he faces charges in addition to the capital murder charges filed against him in Stafford County.
Planning for weeks
Investigators said Stewart most likely left Virginia immediately following the pipe bomb attacks in Fredericksburg and Stafford County.
It's not yet known why Stewart fled to Montana.
It was a pair of license plates that were reported stolen from a Walmart store in Montana that caught the attention of a law enforcement officer who initiated the traffic stop the led to the apprehension.
Investigators said Stewart was driving a 2013 red Hyundai when he fled Virginia, but could not confirm Thursday night if it was the same car he was driving when he was captured. 
The suspect does have a record of domestic violence with his ex-girlfriend, and on two occasions this summer was charged after sheriff's deputies said he exposed himself to shoppers at Stafford Marketplace on Va. 610.
Jett said his ex-girlfriend initially lured him to Stafford, but he added Stewart for weeks had been planning the Tuesday pipe bomb attacks where the suspect's girlfriend and the two Stafford law enforcement officers – a detective and deputy – were targeted.
While Virginia issued the state's first Blue Alert to speed the apprehension of the suspect, the FBI's National Crime Information Database is credited with getting the word out to police about the suspect.
Others involved
Following the Tuesday attacks, there was a "great deal of uneasiness" among law enforcement, said Jett.
Jett said Stewart made disparaging statements about other people whom he felt were out to get him. He did not elaborate on what was said.
Jett described the officers targeted in this case as upstanding members of the force.
"The Deputy and the detective that were involved in this are extremely professional law enforcement officers. And though this is an very personal attack on law enforcement, as we take it as such, our investigation wasn't altered in any way, shape, or form as if this were have occurred to anyone else," said Jett.
Post Your Email Notices, Press Releases, Event Fliers, and Photos
Subscribe to the weekday Breakfast Links email FREE!
Get
updates straight to your inbox.