No Pity for Tardy Slugs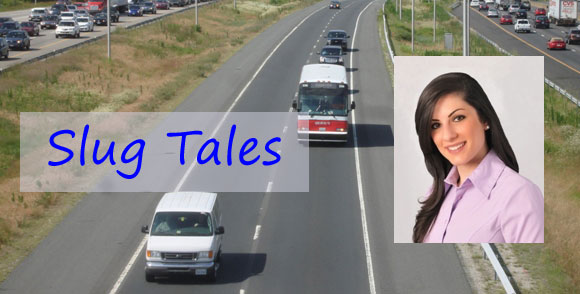 SLUG TALES
Running late is the worst feeling.
I take that back: running late in the morning, in the rain, when there's traffic, no parking at the commuter lot and no cars waiting to pick up slugs is the worst.
Seriously, sometimes I feel like I just can't seem to get it together in the morning. No matter what I do or how early I get up, I always find myself running out the door at the last possible second and rushing to the commuter lot. Oh, who am I kidding? I never wake up early!
Why do I do that to myself? Every day, I say that I will get up earlier, that I'll get on the road sooner. I won't be late tomorrow! No, tomorrow, I will be on time. But it never fails… tomorrow, I'll be saying the same thing.
And I'm confident that I am not alone in this. There are days where I am literally running to the slug line with not a second to spare, sure that I won't find any slug drivers still waiting to pick up, but I almost always find someone running just as late as I am.
Luckily, there are several drivers who I come across who pick up at the commuter lot in the last ten minutes or so of the commute. Once the clock strikes 9 a.m. and the High Occupancy Vehicle lanes open up to all traffic, drivers have no incentive to pick up slugs. Some drivers will even take their chances by entering the HOV lanes minutes before 9 a.m. without any slugs. So the closer it is to 9 a.m., the less the chances are of finding a slug ride.
And there is almost nothing worse than standing in the slug line, wondering if anyone will feel bad enough to pick up a poor, lonely slug, or if that tardy slug will be left behind with no choice but to take the bus to the Franconia-Springfield Metro station.
As many times as I've been late, I've been left in that very predicament. When there appear to be no more cars going to L'Enfant Plaza, my ultimate destination, I'll usually walk over to the slug line for the Pentagon. Not only am I usually more likely to find a late driver there, but there are always cars sitting close to the HOV entrance, which means gives me hope that someone will drop off near a Metro station. Any Metro station. Hey, desperate times call for desperate measures.
Unfortunately, the drivers who sit and wait to enter HOV solo after 9 a.m. take very little pity on late slugs. When I've been in this sort of critical situation, I've approached the waiting drivers with other late slugs to ask if they're going anywhere in or around downtown Washington. Sometimes, drivers will agree to drop off near their destination; other times, they will flat out refuse.
Recently, I asked a driver waiting by the ramp if he was picking up slugs.
"Nope," he replied rudely, rolling up his window. Geez, he could have at least been polite about it!
I've been fairly fortunate and haven't had to take the PRTC Metro Direct bus – a great last resort when there are no other options, but it takes sooo long to get to work that way – so the bottom line is that I've got to step it up.
I swear I'll start getting up earlier. I'll make my breakfast and lay my clothes out the night before. I'll have my lunch packed and ready; I'll even take a quicker shower. No more delays, no more distractions…
Starting tomorrow. Seriously.
Post Your Email Notices, Press Releases, Event Fliers, and Photos
Subscribe to the weekday Breakfast Links email FREE!
Get
updates straight to your inbox.