Radford Rattles NOVA Hockey Team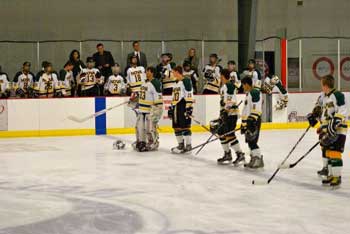 DALE CITY, Va. — In the home opener for the Northern Virginia Community College (NOVA) hockey team, many of the players showed off their first-year nerves.
Playing against Blue Ridge Hockey Conference (BRHC) powerhouse Radford University at the Prince William Ice Center in Dale City, it was apparent early that the game was not going to go NOVA's way. NOVA played the first 10 minutes of the game even before Radford's Chris Merrick scored with a blast from the point.
Eight minutes later, NOVA was on a power play but let up a fluke goal due to a bouncing puck to Radford's Antiono Conde, and with 10 seconds remaining in the period Radford come down on NOVA on a 3 on 1 before backdooring NOVA's goalie Daniel Titus to go up 3 to zero to end the first.
Coach Barrett Haga tried to steady his troops, but the hard-hitting Radford team was getting NOVA rattled.
The second period was filled with NOVA and Radford occupying the penalty box with a combined total of 80 penalties. NOVA's young players were not used Radford's heavy hits and were clearly getting flustered. Radford took advantage of the "dazed and confused" NOVA team and opened up the floodgate by scoring five more unanswered goals to go up eight to nothing to end the second.
"When it rains it pours, and tonight Radford is bringing the rain," said Haga during the break.
NOVA Assistant Coach Powell wanted the team to finish strong and play for pride, but unfortunately, it would not be NOVA's night. Radford came out in the third with a vengeance by sending a clear message that they are the team to beat in the BRHC.
Scoring at will in the third by added six more goals to their total, Radford broke the backs of this young NOVA team. The only glimmer of hope was a goal by NOVA's Dylan Downs and a nice pass from Austin Woolf in the third to prevent a Radford shutout, but that was little consolation in the end.
Final score Radford 14- NOVA 1.
"Adjustments will be made, and we need our leaders to step up. We play two more league games this week against William and Mary and Old Dominion this weekend, and I have a gut feeling that we will get this monkey off our back and win these two. The biggest thing our players need to learn is to have respect for the game, and once they learn to have respect for the game, the wins will follow," said Haga.
Next game William and Mary at NVCC at Prince William Ice Arena in Dale City on Friday Oct 19 at 9:15 p.m. It's free.
-Submitted 
Post Your Email Notices, Press Releases, Event Fliers, and Photos
Subscribe to the weekday Breakfast Links email FREE!
Get
updates straight to your inbox.