New Life Sought for 'Incredible Universe'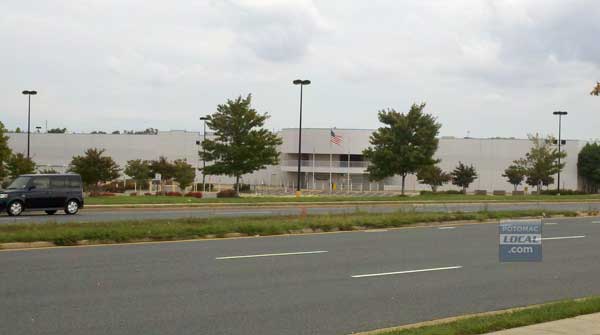 EXCLUSIVE 
By URIAH KISER
WOODBRIDGE, Va. — After war machines and a failed consumer electronics store, a sports and restaurant complex may be next.
A large white building on the backside of Potomac Mills mall now sits empty. For the past 10 years it was home to General Dynamics' amphibious war fighting vehicle operation — a joint project with the U.S. Marine Corps. Federal cutbacks forced the closure of the program and the building was vacated Sept. 31.
All that's left is 185,000 square feet of open space, worn carpeting, and wires that once powered office technology dangling from ceiling tiles. With 25,000 square feet of that space on a mezzanine level that could be ripe for a restaurant, the building at 14041 Worth Avenue is the largest open space available on the  market along the Interstate 95 corridor in Northern Virginia, developers said.
The former Worth Avenue Technology Complex, and in the mid 1990s an Incredible Universe electronics store, the building is now called "SQ 95." That's short for Square 95, with the building taking its new name from it's obvious shape and from the large interstate highway that runs nearby.
At a potential investor luncheon on Tuesday, the building's owners said there is a bright future for a structure in the heart of Woodbridge's bustling retail district.
"General Dynamics ended up manufacturing a marine war-fighting machine in the parking lot of a regional mall. That may not seem that unusual to us here in Northern Virginia, but it would seem that way just about anywhere else in the country," said Richard Previdi of Alliance Partners, the building's owner.
Previdi bought the building just over three years ago when there was still hope General Dynamics would resign its lease. Now it's up to him to reprogram the building at a time when a host of new retail stores and restaurants are in the process of opening at Potomac Mills mall, and across the highway at Stonebridge at Potomac Town Center – home to a Wegman's grocery store.
A sports complex 
 An idea that has been an early favorite in redeveloping this piece of real estate  is turning the complex into an indoor sports facility and naming it "Sports 95." It would be an indoor arena that would provide a place to play for tourists, children, and their parents all who visit Potomac Mills mall.
Alliance Partners has spoken with interested sporting organizations like soccer and baseball teams, trampoline leagues, and, yes, go-cart operators, any of which they think would be a good fit for the space.
If a sports organization agrees to enter the building, it could compete with the likes of a new Minor League Baseball stadium planned for Stonebridge at Potomac Town Center, which will house the Potomac Nationals.
"We've floated the retail idea around, but we didn't get a lot of traction on it because of what's happening on the other side of 95," said Previdi.
Previdi said there are no plans to demolish the behemoth of a building, and that all options for a new tenant are being considered.
On the market
Commercial real estate powerhouse Jones Lang LaSalle has been tapped to market the building to a potential tenant. While finding just one tenant would make their jobs easier, the company says the former retail spaced turned government office complex can easily be divided to serve four to five potential tenants.
If just one tenant wanted to lease the entire building, the price could range between anywhere between $20 and $25 million, according to a Jones Lang LaSalle representative who was on site Tuesday.
Currently there are no offers on the table from a potential tenant to fill the building. Previdi added he's not gotten a response from the federal government after attempting to draw one of two new GSA contracts that would occupy the building.
Marketers said the building can also be used as office space, but there are no plans to make the complex into a mini shopping mall.
Incredible Universe
In 1995, 10 years after the opening of Potomac Mills mall, the area behind the destination shopping mall was expanding. A new Best Buy store opened in the Smoketown Stations shopping center on a recently completed Prince William Parkway, and so did several restaurants and smaller shops.
About the same time an oversized electronics store dubbed Incredible Universe opened its doors and offered everything from vacuum cleaners, computers, washing machines, to office furniture.
It opened to wide fanfare, and during its opening weekend, shoppers jammed parking lots at Potomac Mills mall, Walmart, and other stores and walked what was the newest in a chain of huge electronic stores owned by Radio Shack owners, Tandy Corporation.
Not satisfied with just being an electronics store, Incredible Universe also touted a McDonalds restaurant, and a stage in the center of the store which featured live performances, and also attracted radio personalities from stations like WWDC-FM (DC 101).
But as time went on shoppers found items hard to find, and that going to the store was more of an event that a routine shopping trip. Nearby Best Buy had also opened and offered Woodbridge shoppers a more convenient experience.
About a year after it opened, Incredible Universe closed its doors. Brian Walter helped to both open and close the massive retail store, and he wrote about coming to work on the day employees were notified of the store's closing. 
"The lights weren't really all on in the store and President Brian Levy asked if I knew how to turn them on, of course I said yes! As I was making my rounds into the power room…called my new manager at [his] home to let him know what was going on. He was in utter shock (especially after the company had just moved him and his family there), he posted to incredible-universe.com.
Eventually, the experiment with retail and entertainment flopped and all 17 Incredible Universe stores closed.
Post Your Email Notices, Press Releases, Event Fliers, and Photos
Subscribe to the weekday Breakfast Links email FREE!
Get
updates straight to your inbox.