Perkins, Connolly at Odds on College Loans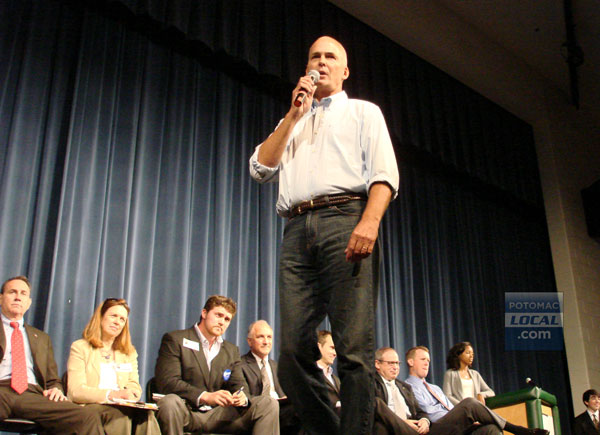 LORTON, Va. – Students heard from a rapping political hopeful, as well as another who accused his opponent of providing a "free lunch" when it comes to education funding.
A panel of Republican and Independent candidates seeking to unseat Democrats Gerry Connolly who serves Fairfax and Prince William counties in the 11th, and Jim Moran in the 8th District in Arlington and Fairfax counties, took questions on Friday from seniors at South County High School in Lorton.
Connolly Moran were both at prior engagement with Gov. Robert F. McDonnell and had representatives on stage. Connolly's chief of staff James Walkinshaw took the first question on college affordability. He told students a Republican plan supported by Republican Presidential Nominee Mitt Romney would increase the cost of college for those reliant on student loans.
"It will double your student loan interest rate from 3.4 percent to 6.8 percent costing you thousands of dollars, and it will slash funding for Pell Grants. And we have students in this school applying right now to get funding for Pell Grants," said Walkinshaw.
Connolly's Republican opponent Chris Perkins responded: "if you want a free lunch, [Connolly is] your man. If you want earn it, if you want to deserve it, we're your guys."
Perkins does not support federal Pell Grants which do not have to be repaid and wants more privatization of education at the state level. He liked the public school system to a monopoly.
"What I've always been taught is that a monopoly is an organization that tries to give the least product for the most cost…that's what we're getting in our education system," Perkins told PotomacLocal.com.
Small business owner and Independent 11th congressional district Mark Gibson, who is also a Fairfax County business owner, said the country needs a more skilled workforce.
"As a small business owner I'm always looking for new people to do work. I've got a lot of high paying jobs and I can 't fill them because I don't have people who know how to do the work," said Gibson.
Gibson wants better communication between the U.S. Labor and Education departments to best determine what skill sets are needed in the workforce.
Gibson urged students to get involved and support his independent campaign in the days and weeks leading up to Election Day on Nov. 6.
Independent candidate and Fairfax County businessman Chris DeCarlo garnered attention and a few laughs when he held up a stuffed Yoda doll from Star Wars movies, and also rapped his responses to the questions. DeCarlo said his campaign is one that fights what he called overall corruption in congress.
The candidate has put several of his videos online as a means to reach voters because "no one listens to independent candidates," he told the students.
Post Your Email Notices, Press Releases, Event Fliers, and Photos
The FREE email packed with local news
The FREE email packed with local news
The FREE email packed with local news
Sign Up