Sara Jones, of Woodbridge, Killed in Crash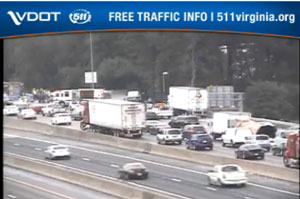 FATAL CRASH 
 UPDATE Friday 2 p.m. 
The driver of the Kia, Sara M. Jones, 29, of Woodbridge, Va., died at the scene.
UPDATE
At 11:27 a.m. Thursday (Sept. 6), Virginia State Police Trooper J.A. Adams was called to the scene of a two-vehicle crash in the southbound lanes of Interstate 95 at the 163 mile marker.
According to witnesses, a Kia was merging into the southbound lanes of I-95 from Lorton Road when it pulled into the path of a southbound tractor-trailer. The tractor-trailer swerved to the left in an attempt to avoid the merging passenger car. But the two vehicles still collided and ran off the right side of the road. The Kia came to rest at the edge of the right shoulder. The tractor-trailer went down an embankment and jackknifed.
The female driver of the Kia died at the scene. State police are still in the process of locating and notifying her next of kin.
The driver of the tractor-trailer, a 49-year-old Chesterfield, Va., man, was transported to Fairfax Inova Hospital for treatment of non-life threatening injuries. He was wearing a seat belt. The tractor-trailer was loaded with 20,000 pounds of carpet.
The Virginia State Police Fairfax Division Crash Reconstruction Team is assisting with the investigation into the cause of the crash.
As of 3:27 p.m., all southbound lanes were re-opened to through traffic.
-Virginia State Police 
ORIGINAL POST 12:45 p.m.
LORTON, Va. — Police are on the scene of the fatal crash on Interstate 95 in Lorton.
The crash happened about 11:30 a.m. near mile post 163 in Fairfax County.
Virginia State Police spokeswoman Corinne Geller said the crash involves a tractor trailer and a smaller automobile.
We'll bring you more on this as we get it.
Post Your Email Notices, Press Releases, Event Fliers, and Photos
The FREE email packed with local news
The FREE email packed with local news
The FREE email packed with local news
Sign Up