Transit Partners Funding New Vanpool Program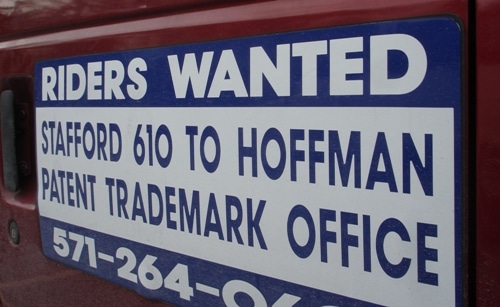 WOODBRIDGE, Va. — For the first time, regional transit agencies are partnering to bring more vanpool options to the region.
The Potomac and Rappahannock Transit Commission (PRTC), George Washington Regional Commission (GWRC) and the Northern Virginia Transportation Commission (NVTC) are all working together to create a new vanpool service that will begin in January.
PRTC chief Alfred Harf said the three organizations have drawn inspiration from similar programs in other metro areas, while at the same time, recognizing the unique regional attributes of vanpooling.
The program envisions each vanpool owner or operator being paid $200 per month as consideration for providing statistical information from their riders. PRTC will collect the information and then submit it to the Federal Transit Administration as part of a National Transit Database.
The information will be used to determine how much federal funding the region will get to maintain and grow the vanpool program.
The $3.2 million program was approved by the Commonwealth Transportation Board in July, and it will fund all but $1.6 million of the total cost. The remaining $1.6 million will be supplemented through a two-and-a-half year loan from PRTC and NVTC, which will be used to fund the program through its initial phases until federal funding kicks in.
The vanpool incentive program aims to not only introduce new vanpools, but also to encourage existing vanpoolers to become program participants, said Harf. Currently, there are over 800 existing vanpools in the region, and it is estimated that half of them will opt into the new program. PRTC estimates the program will grow up to 10 percent per year.
Once the program kicks off, commuters will have the ability to sign up for vanpools online.
Like slugging, the informal carpooling system that exists almost exclusively in and Northern Virginia, vanpooling has grown in the region with little government involvement, though many area vanpoolers receive the same employer-sponsored commuter monetary benefits that other transit riders who use buses or trains.
Though both PRTC and GWRC have a long history of providing vanpool services and has helped to start-up and sustain vanpools, this new Vanpool Incentive Program marks the first time that PRTC will manage such a large effort.
In other metro areas, most vanpools are largely publicly-owned or publicly-leased vans, which vanpoolers use at below-market rates, subsidized by the public agencies that run the programs to increase vanpool usage, according to Harf.
Post Your Email Notices, Press Releases, Event Fliers, and Photos
Subscribe to the weekday Breakfast Links email FREE!
Get
updates straight to your inbox.