Trees Fall, HOV Lanes Narrowing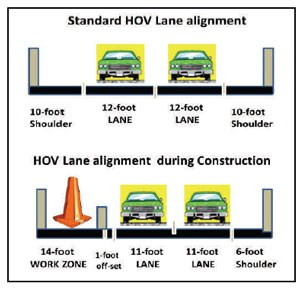 TRIANGLE, Va. — The work to expand commuting options and add toll lanes to Interstate 95 is underway.
Trees are already falling in the Triangle area where the High Occupancy Toll lanes are being extended nine miles south from Dumfries to Va. 610 in Stafford County.
From North Stafford to Edsall Road in Alexandria, the new lanes will be a part of what will be 29 miles of the new 95 Express Lanes that will allow drivers to pay a toll to avoid traffic or continue to ride free in vehicles of three or more.
One hundred acres of trees will fall to make way for the project. Fluor-Transurban, the private operators of the lanes, said they are replacing the trees by planting 1,000 new trees in 1,000 days. The first tree was planted at a highway rest stop in Dale City after the groundbreaking of the 95 Express Lanes Project.
The express lanes are also known as High Occupancy Toll, or HOT lanes, and construction will bring some changes to drivers' commutes. The HOV lanes north of Prince William Parkway will be completely realigned, narrowed, traffic shifted slightly to the right, and concrete barriers erected to allow crews work in the shoulder.
Older barriers that separate the HOV lanes from the travel lanes of I-95 will be replaced, new signage installed, and new drains put in during the hours of 8 p.m. and 4 a.m. during construction, according to a newsletter from Prince William Coles District Supervisor Mary Nohe.
The $1 billion project is expected to be complete in 2014 and employ 500 construction workers. The lanes will link with the 495 Express Lanes on the Capital Beltway which are slated to open later this year.
Post Your Email Notices, Press Releases, Event Fliers, and Photos
Subscribe to the weekday Breakfast Links email FREE!
Get
updates straight to your inbox.