Group Addressed Multiple Tenants at Single Homes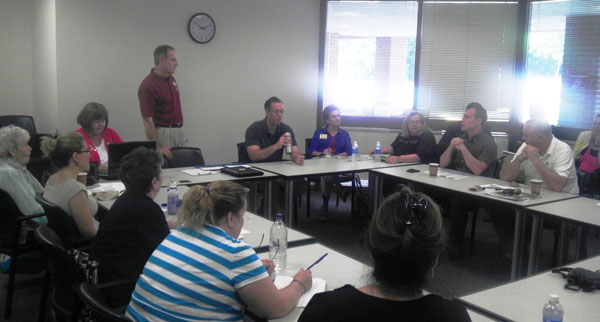 WOODBRIDGE, Va. – On Saturday, August 4, Delegate Rich Anderson (R-Prince William) hosted a 51st House District Town Hall in a packed conference room at the McCoart Government Complex Building in response to citizen concerns over neighborhood issues in Prince William County. Also in attendance were Occoquan District Supervisor Michael C. May, staff representatives of other county supervisors, and key members of the county staff.
Some three dozen people crowded into a packed meeting room to express their concerns in a community discussion on how to make Prince William County a better place in which to live, work, and raise a family. During the meeting, residents of Woodbridge, Dale City, Occoquan, Lake Ridge, and Manassas engaged in the discussion on neighborhood issues, and Anderson pledged to continue the community conversation in a series of additional meetings.
The purpose of the get-together was to determine if local county ordinances are sufficient to address neighborhood challenges, or if additional authority is needed from the Commonwealth of Virginia to permit Prince William County officials to assist neighborhoods to a greater degree. Before the meeting, citizens were asked to put their neighborhood concerns in writing in order to better shape the discussion at the meeting. Many of these concerns centered around residential overcrowding, parking of vehicles in unauthorized locations, and operation of businesses in areas zoned for residential properties. A list of citizen questions and concerns can be found at the Neabsco Action Alliance website.
On hand to help from Prince William County staff were John E. Settlemeyer of the county's Property Code Enforcement Branch and Robert P. Skoff of the County Attorney's Office. Settlemeyer and Skoff are recognized experts in county ordinances and neighborhood code enforcement. Connie Moser, President of the Neabsco Action Alliance organization and Virginia's "State Neighborhood Advocate of the Year" in 2011, helped to facilitate the meeting.
The first discussion item focused on the number of persons residing in a single-family home. Citizens from all parts of Prince William County—east, west, and mid-county—agreed that multiple tenants in a single family residence was problematic. Assistant County Attorney Skoff explained limitations of county ordinances regarding the number of permissible tenants and difficulties in the legal definition of the term "family." After considerable discussion, the group refocused its attention from the issue of the number of occupants living in a particular dwelling to the challenges created by a large number of vehicles, trash receptacles, noise, and infringement on the neighborhood experienced by residents.
The group then turned its attention to a discussion of work vehicles parked in residential areas overnight, including the operation of businesses in residential neighborhoods. Because of the extensive nature of the neighborhood issues identified in Saturday's meeting, Anderson offered to host additional meetings to permit the group to craft proposed solutions and to bring in additional participants from the community. Anderson concluded the meeting with assurances that he is "willing to do anything necessary to help residents feel comfortable in their neighborhoods and rebuild lost property values."
Moser invited residents to attend monthly Neighborhood Leaders Group meetings to work with long-time neighborhood advocates on finding common-sense solutions to local neighborhood challenges. Details are on the Prince William County website.
Anderson concluded the meeting by giving his contact information to attendees and encouraged them to contact him or his legislative assistant, Ryan M. Galloway, at any time. His email address is DelRAnderson@house.virginia.gov and Mr. Galloway's address is RGalloway@house.virginia.gov. The 51st legislative district office telephone number is 571-264-9983. Citizens with urgent needs that cannot wait until the next business day may also call Del. Anderson's Woodbridge home at 703-730-1380.
-Press release 
Post Your Email Notices, Press Releases, Event Fliers, and Photos
Subscribe to the weekday Breakfast Links email FREE!
Get
updates straight to your inbox.