U.S. 1 Widening Spurs Budget Battle
By URIAH KISER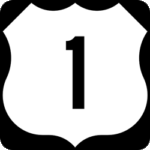 WOODBRIDGE, Va. — When it comes to building roads using bond money, it's eastern Prince William County's turn to enjoy the spoils.
The county's Board of Supervisors approved a $53.1 million project to widen U.S. 1 between Neabsco Mills and Featherstone roads from four to six lanes in Woodbridge. The project will help traffic in a commuter corridor often gridlocked during rush hours, but it also will strap county taxpayers with about $50 million in new bond debt – all of which will be need to be paid off over the next 20 years, starting in 2014.
But, with interest rates and construction costs at all-time lows, it appears now is the time to invest and spur redevelopment in Woodbridge with a wider main street.
"We've already completed the western-end 2006 [voter approved bond referendum] projects…now this Woodbridge project has been put off and needs to get done," said Prince William Board Chairman Corey Stewart, At large. "It's about the rejuvenation of the Route 1 corridor which is happening as we speak."
Since 1988, Prince William has built roads – including the highway that bears its namesake, Prince William Parkway, with bond money used after voters approved new road construction. The last road bond referendum was passed in 2006, when, among other projects in the western portion of the county, voters approved widening U.S. 1 in Triangle (a project now completed).
Known across the state as a county willing to finance and build its own roads rather that wait on the Virginia Department of Transportation to do it for them, this new U.S. 1 widening project in Prince William will add to improvements already planned to widen U.S. 1 to six lanes from the Occoquan River south to Mary's Way in Woodbridge.
Gainesville District Supervisor Peter Candland was the only one on the eight-member Board who voted against widening U.S. 1 between Neabsco Mills and Featherstone roads. The debt was too much for him to swallow, and, in a futile effort, he urged the county's staff to go back to the drawing board to see if the widening could be done for less money.
Prince William County Budget Office Director Michelle Casciato warned the Board that if they committed to this project now, they would be limited on making changes to a five year plan that includes funding other projects like a police station and new libraries.
In the coming years, county officials plan for a four-percent annual budget increase that would grow its already $2.4 billon annual budget.
Earlier this year, Occoquan Supervisor Mike May requested new numbers from the Budget Office essentially asking "what if" the county doesn't increase it's budget by four percent, choosing instead to increase it by just two or three percent. What if the county doesn't increase its budget at all and continues to cut services and reduce its government workforce? May asked.
Those projections are due out this fall, and May said they could also affect the projected levels of funding for other projects already in the county's five year plan, stating all projects are still on the table.
The general consensus on the Board remains, however, that if planned projects like new libraries, parks, and improvements to public safety are going to get built, the money is going to have to come from somewhere.
Post Your Email Notices, Press Releases, Event Fliers, and Photos
The FREE email packed with local news
The FREE email packed with local news
The FREE email packed with local news
Sign Up