PRTC Helps Thousands Travel in Northern Virginia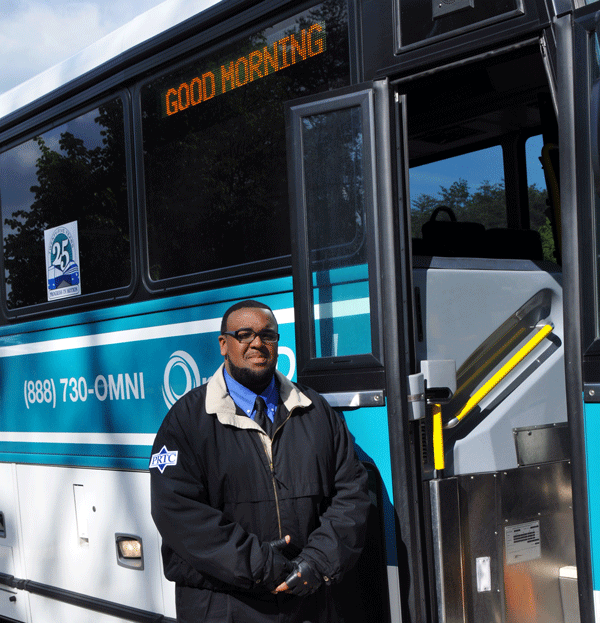 Welcome to Northern Virginia. Expect delays. Residents here know there is no shortage of cars and that congestion on local roads and highways can be a way of life.
That's why thousands of people each day rely on the Potomac and Rappahannock Transportation Commission to help ease their ride, whether it be to work, school, or play.
OmniRide
One of the most popular commuter bus services in the region, PRTC OmniRide allows commuters a one-seat ride from areas in Prince William County and the independent cities of Manassas and Manassas Park to their jobs in Washington, D.C., Arlington, and other stops in the close-in suburbs of Northern Virginia.
See OmniRide bus routes and schedules. See OmniRide fares.
Whether riders catch the bus from a park-and-ride commuter lot or they walk to an OmniRide bus stop in their neighborhood, commuters have come to rely on this safe, quiet, and reliable ride. OmniRide buses use High Occupancy Vehicle lanes on Interstates 95, 395, and 66 to get where they're going, breezing by other cars that often slow down or get stuck in traffic in regular travel lanes.
"Northern Virginia has infamous traffic congestion, and by offering commuter bus services, we hope to take people out of their cars and allow them a quicker and stress-free ride in the High Occupancy Vehicle lanes," said PRTC spokeswoman Christine Rodrigo.
Tysons Express
OmniRide buses also take passengers to Tysons Corner, a job center full of financial, contracting, and technology firms as well as world-class shopping. Tysons Corner has become an overall economic juggernaut in the region, and it's also where new highway construction as part of the I-495 Express Lanes Project and construction of the new Dulles Corridor Metrorail Project collide.
Tysons Express riders don't need to worry about lane closures or finding parking.
See Tysons Express AM bus and PM bus schedules and fares.
Each weekday, Tysons Express buses pick up passengers at two commuter lots in Woodbridge, travel on the HOV express lanes on I-95, and then use a portion of the Capital Beltway to access Tysons Corner, all while passengers relax and enjoy amenities like free wireless internet access.
"Instead of just sitting behind the wheel stuck in traffic, listening to the radio, you can be online, be on your smart phone, be paying bills, you can be reading, you can nap.It's time that gets put back into your schedule to do things that you need to get done every day," said Rodrigo.
Metro Direct
PRTC offers three options for those who need to travel to and from the nearby Metro stations. Those who live in eastern Prince William County have weekday connections with the Franconia-Springfield Metro, while those in the Manassas area have weekday connections with the West Falls Church Metro. And Gainesville area residents have rush-hour connections with the West Falls Church Metro.
See Metro Direct bus routes, schedules, and fares:
Prince William Metro Direct AM
Prince William Metro Direct PM
"The Metro station parking lots fill up early in the morning, but those who ride a Metro Direct bus don't have to worry about parking because the bus drops passengers off near the Metro entrance," said Rodrigo.
OmniLink local bus service
Now we know how to get to and from Prince William, but what if you want to get around locally? From sun up to sun down OmniLink is your link around town.
From humble beginnings in 1995, OmniLink has grown to serve major transportation corridors in our area, including U.S. 1 in Woodbridge, Dale Boulevard in Dale City and Sudley Road in Manassas, taking passengers to popular destinations like Potomac Mills mall, government buildings, employment centers, schools, and colleges.
See OmniLink local bus routes and schedules. See OmniLink local bus service fares.
"We recognize that people are in one-car households but have two people working, or there's a teenager who has a driver's license but the family, for whatever reason, doesn't want to have another vehicle…and then you have people just out of economic necessity or medical reasons who cannot have a driver's license or a vehicle. Local bus service helps all of these people get around and do all of the things we do every day," said Rodrigo.
Cross County Connector
Those who need to travel between eastern Prince William and the Manassas area can rely on the Cross County Connector. The bus operates weekdays and connects Potomac Mills Mall and Manassas Mall with stops along Prince William County Parkway and Old Town Manassas.
See Cross County Connector bus routes, schedules, and fares:
Eastbound (Manassas to Woodbridge)
Westbound (Woodbridge to Manassas)
OmniMatch
Sometimes the bus doesn't suit a person's work schedule or destination. That's why PRTC created the OmniMatch ridesharing service. Simply answer a few questions about your work hours, origination point and destination, and you'll be entered into a regional database of commuters who are looking for carpools and vanpools. The service is fast, free and couldn't be easier!
OmniSmartCommute
Employers looking for a recruiting and retention tool are turning to this free program! The OmniSmartCommute staff helps employers to create, implement and expand commuter strategies to save their staff members money and hassles. Some popular options are providing preferential parking for carpoolers, installing bike racks and showers for bicyclists, and offering flextime, compressed work weeks and telework.
On-The-Go Travel Training
Some people want to use public transportation but don't ride because they are not familiar with the services and how they operate. PRTC's new grant-funded travel training program is designed to help potential riders get over the hurdle of the unfamiliar and become confident users of public transportation. This free program provides one-on-one or group training sessions.
Easy to ride and pay with SmarTrip
No matter where you're going, and no matter if you take a PRTC bus or Metro train, bring your SmarTrip card for an easy way to pay for your ride. SmarTrip is a rechargeable fare card used on multiple transportation systems in the Washington, D.C. region. One card makes it easy to connect with other services and makes travel outside our local community easier.
It also takes away the need to have exact change or proper fare, and riders can easily add more fare to their cards.
With so many options to choose from, PRTC has the Ride that's Right for You!
Post Your Email Notices, Press Releases, Event Fliers, and Photos
The FREE email packed with local news
The FREE email packed with local news
The FREE email packed with local news
Sign Up