Power Crews Face Sweltering Heat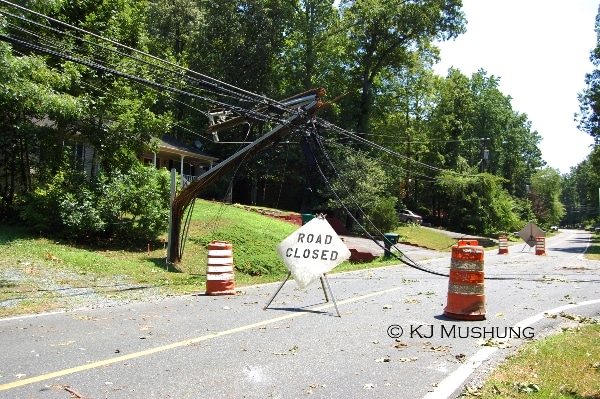 It's been more than 100 hours since Friday night's powerful Derecho windstorm hit, and many in the Potomac Communities are still without power.
Dominion Virginia Power crews posted their work locations for today, where the utility says they're working around the clock to restore power. (Locations listed below).
This morning, Dominion reports 1,561 customers out in Stafford – down from about 9,000 on Saturday. Dominion says 239 are still without power in Prince William.
The Northern Virginia Electric Cooperative reports 24 out in Prince William and one customer out in Stafford.
MORE TO THE STORY: Stafford announced its landfill will be open, offering free much
Crews performing the restoration work will face temperatures in the high 90s to 100 degrees today. The National Weather Service issued a heat advisory for the region until 9 p.m., and that means it'll feel like 100 to 105 degrees.
Dominion Work Locations for July 4, 2012
Dumfries
Cherry Hill Rd
Cockpit Point Rd & Graham Park Rd
Vidalia Ct
Triangle
Barnette Cir
Carborough St
Weaver Rd
Stafford
Dent Doad at Cobbleston Subdiv
Brooke Rd & Millbrooke Rd
Coal Landing Rd
Courthouse Rd @ Cedar Ln
Eskimo Hill Rd
Potomac Run Rd south of Eskimo Hill Rd
Rollinswood La
State Shop Rd
Leeland Rd @ Morton Rd
Leeland Road at Conway
Greenbank Rd @ Rocky Run Rd intersection
Main St
Mansfield St
Mountain View Rd
Ramouth Church Rd
Rt 17 @ Rt 723
Truslow Rd
Rt 17 @ Hartwood
Woodbridge
Asphalt Plant
Bacon Race & Wood Lilly
Belmont Blvd at Y
Crestridge Dr
Gunston Rd
Gunston Rd Past Springfield Dr
Lake Jackson Dr
McGrath Rd north off North Point Rd
Occoquan Club Dr
Princess Ann & Longview
Post Your Email Notices, Press Releases, Event Fliers, and Photos
The FREE email packed with local news
The FREE email packed with local news
The FREE email packed with local news
Sign Up