911 Issue Attributed to Power Loss in Arlington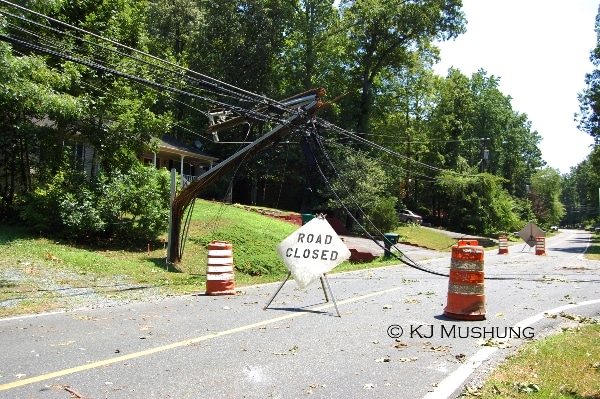 CONTINUING STORM COVERAGE  
UPDATE 4;45 p.m. — Stafford closes cooling shelter
Stafford County officials are closing a cooling shelter at Rodney Thompson Middle School. Residents are still asked to call 540-658-4440 for assistance. A local state of emergency declared by Stafford County Administrator Anthony Romanello is still in effect.
UPDATE 4:30 p.m.
Verizon lost power in one of its facilities in Arlington which prompted massive problems Saturday with the 911 systems in Prince William and Fairfax counties.
Fairfax, Prince William, and Stafford counties reported problems with the 911 system Saturday morning and asked callers with life-threatening situations to try police non-emergency phone numbers, to go directly to police stations, fire stations, or hospitals.
As of Saturday afternoon and again today, the call centers report intermittent 911 service.
Widespread power outages have also been a problem for Verizon, and so have downed poles, and trees that fell onto wires.
"We're working late hours – often around the clock – and bringing in additional technicians from other parts of our service area to assist in bringing service back as quickly as we possibly can. We appreciate customers' continued patience as we work to restore services in the wake of one of the worst storms in recent memory," stated Verizon spokesman Harry Mitchell.
While cell phone service has mostly been restored, many users as emergency officials for much of the day Saturday did not have access to cell phone service because of the storm.
UPDATE 12:45 p.m.
Two cooling shelters in Prince William County, one at Freedom High School in Woodbridge and the other at Battlefield Stonewall Jackson High School in Manassas, will open today from 1 to 7 p.m. Officials said they will reevaluate the need to keep the shelters open at 7 p.m.
Again today, pets will not be allowed in the shelters. Residents can bring them to the shelter, but animal control staff will pick up the pets and take them to the county's animal shelter where they'll sat in air conditioning.
The shelter's opening comes after police in Prince William said many if not all of the traffic signals in the eastern portion of the county are now working again. In the event one is not, officials told drivers to treat dark signals as a four-way stop and to call 703-792-6500 to report the dark intersection.
Sunday, 11:30 a.m. 
Power is coming back on for some in Prince William and Stafford counties, but many still face another hot day without power or air conditioning inside of their homes.
Northern Virginia Electric Cooperative restored 98 percent of their customers in Prince William and 91 percent in Stafford who lost power after Friday's storm. A total of 1472 customers in Prince William and 388 in Stafford remain without power.
For Dominion Virginia Power which serves more customers in both locations, the task is more daunting. The utility continues to have outages that line the U.S. 1 and Interstate 95 corridors, with about 77,000 still out in Prince William and 45,500 still out in Stafford, according to Dominion's online interactive outage viewer.
That number differs from what officials in Stafford posted in their latest storm update, which shows 19,000 customers still without power.
MORE TO THE STORY: Dominion Virginia Power posts work locations for Sunday, July 1.
Phones
For the phones, it's much of the same story as yesterday: Cellular phone service in the area remains spotty, and service to the county's 911 communications center is intermittent.
"In an emergency, Prince William County residents are reminded to try 911, but if it fails to call the non-emergency number 703-792-5509 6500 or stop by the nearest fire department/hospital," stated Prince William spokesman Jason Grant in an email.
In Stafford, those who cannot get through to 911 are asked to call 540-658-4000.
Shelters
Shelters at Freedom High School in Woodbridge, and at Rodney Thompson Middle School in Stafford, remain open. There is no timeframe in place at this time to close them as temperatures once again slated to rise into the upper 90s.
Weather
More hot temperatures are forecast through the remainder of the day. This afternoon and into the evening, scattered showers and thunderstorms are forecast for the area. Breaking a trend set in the past two days, there are no heat warnings or advisories for the Potomac Communities.
Stafford pools
The Woodlands Pool in North Stafford and Curtis Park Pool in the Hartwood area of Stafford County will operate extended hours today, from 11 a.m. to 6 p.m. and noon to 6 p.m., respectively.
Stafford landfill
Stafford's landfill will be open extended hours today until 5 p.m.
Post Your Email Notices, Press Releases, Event Fliers, and Photos
Subscribe to the weekday Breakfast Links email FREE!
Get
updates straight to your inbox.