Bridge Closing for 9 Months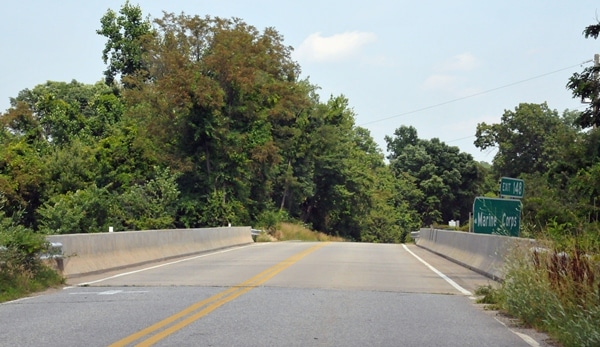 BRIDGE LINKING MARINE CORPS BASE WILL BE DEMOLISHED 
NORTH STAFFORD, Va. — The High Occupancy Toll lanes coming to Interstate 95 will bring a newly rebuilt bridge to Quantico Marine Corps Base.
The two-lane bridge that carries traffic on Telegraph Road in North Stafford over I-95 to the western portion of Quantico Marine Corps Base, where Telegraph Road becomes MCB-1, will close in March for nine months. Then, a newly reconstructed bridge will be built and will open by November 2013, the Quantico Sentry reports.
The bridge will be able to accommodate new express lanes that will run along what is now a forested embankment in the median of I-95 between, the current terminus of the I-95 HOV lanes and Va. 610 in North Stafford. The new bridge will have abutments that will allow for two lanes of traffic to easily pass underneath, transportation officials said.
Construction of the I-95 HOT lanes, dubbed Express Lanes, will begin later this year and will run between Va. 610 and Edsall Road in Alexandria. Drivers will be able to pay a toll to use the lanes and vehicles with three or more occupants will be able to use the lanes for free. Single drivers will be charged a toll at all times of the day, seven days a week to use the lanes.
The lanes could be finishes as early as 2015.

View Telegraph Road bridge reconstruction in a larger map
Post Your Email Notices, Press Releases, Event Fliers, and Photos
The FREE email packed with local news
The FREE email packed with local news
The FREE email packed with local news
Sign Up