Dumfries Changes Prayer Policy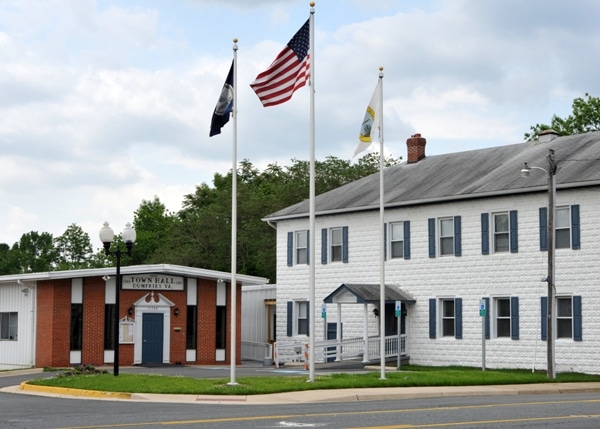 By URIAH KISER
COUNCILMEMBERS, ATTORNEY QUESTION LEGALITY OF CLOSED MEETING
DUMFRIES, Va. — Religion and the fear of litigation prompted Dumfries Mayor Gerald Foreman to lead three councilmembers into a backroom session that was described as illegal.
The Town Council unanimously voted on Tuesday to amend its invocation policy and adopted an ordinance that states a "moment of silent prayer and reflection" will be held prior to each council meeting. It changes a 2010 rule that barred anyone from evoking "Jesus Christ" or making "any recognizably Christian" references during meetings, though the terms god, providence, heaven, and creator have always been allowed.
Two Councilwomen, Dorothea Barr and Michele Jurgensen, did not follow the Mayor into closed session where the changes were discussed, after Town Attorney Christine Sanders said the lack of pending litigation on this issue made a closed session unwarranted under Virginia 's Freedom of Information laws.
Barr described the meeting as "illegal."
"I don't think my religion here matters…it matters to be, but it shouldn't necessarily matter to you or how I perform this job," she said.
Sanders eventually agreed to a closed session to discuss an email Councilwoman Kristen Forrester said had been sent by the American Civil Liberties Union. Forrester said the email – which was not made public — threatened litigation, but no lawsuit has been filed against the town on this issue, said Town Manager Daniel Taber.
"I would just again reference the email this week, sent by the ACLU, that if we head in any other direction than what they advised us to do, which was pretty clear in that email, than they will seek an injunction against us. It's been threatened; I don't know how this can be any clearer on the issue," said Forrester.
Officials invited Woodbridge lawyer Doug Anderson to the closed meeting to discuss the town's invocation policy. Anderson told the council he was working on a pro bono basis. Officials eventually emerged from closed session and passed the amended invocation policy.
A letter was sent to the town Monday from ACLU Legal Director Rebecca Glenberg — its entirety read into the public record at the Tuesday night meeting — that stated prayers must not reflect any one religion, and it reminded Dumfries leaders the ACLU recently won a federal injunction against Pittsylvania County, Va., where officials there were ordered to "cease its practice of explicitly Christian prayers before Board meetings."
A letter from the Alliance Defense Fund, a non-profit legal organization, was also presented to the public Tuesday. That organization has offered to work with any government body whose prayer policies are being challenged, and stated local governments should not abandon invocations before public meetings.
Post Your Email Notices, Press Releases, Event Fliers, and Photos
The FREE email packed with local news
The FREE email packed with local news
The FREE email packed with local news
Sign Up