Quantico Band Tapped for Macy's Parade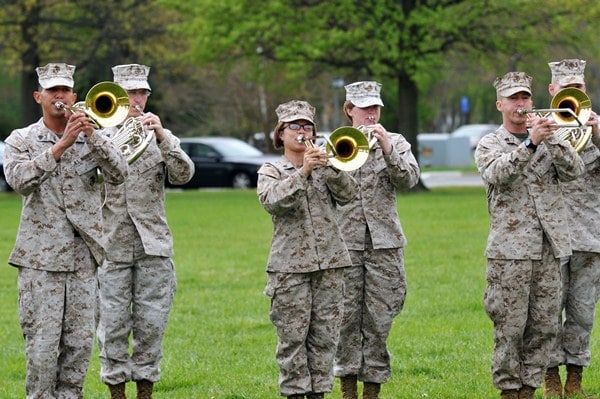 BAND HONORED, WILL PREFORM IN FRONT OF 50 MILLION VIEWERS 
By LANCE CPL. ANTWAUN JEFFERSON
Quantico Sentry
QUANTICO, Va. — The Quantico Marine Corps Band has been selected to perform in the 2013 Macy's Thanksgiving Day Parade. A ceremony was held in their honor to officially announce the big news to the public at Lejeune Hall Flagpole on April 5.
The Macy's Thanksgiving Day Parade is an annual three-hour parade held in New York City on Thanksgiving Day started by the business, Macy's in 1924.
A representative from the Macy's parade committee, Wesley Whatley, the creative director, was the gentleman who announced the selection.
"We at Macy's believe in the power of patriotic music. We believe in its power to unite a nation and ability to inspire. We strive to have that at each Thanksgiving Parade and I know that these are the same values we share with the Quantico Marines. We look forward to seeing them in next year's parade."
Wesley also presented two band representatives, Gunnery Sgt. Timothy Otis, enlisted conductor and Sgt. William Whatley, bassist, with a Macy's official 2013 Parade Drum Face.
"This is a great privilege, Otis said. "The job of the Marine CorpsBand is to show the public what the Marine Corps is about, and, with more than 50 million viewers, there's no better way to do it."
Many leaders aboard the base came at for the occasion including: Col. Dan Choike, base commander; Maj. Matthew Reis, company commander for Headquarters Company and. Sgt. Maj. Michael Moore, Headquarters and Service Battalion sergeant major;
"There is no doubt that I will be tuned in wishing you the very best," Choike said as addressed the band. "I know you all will be doing great things while showcasing your skills and, more importantly, where you came from and who you represent."
"This is a big deal for us and we are very excited," said Chief Warrant Officer 3 Benjamin Bartholomew, the director/officer in charge of the band. "These Marines work hard day-in and day-out, and they deserve to be able to perform something in exceedingly high visibility events like this."
Post Your Email Notices, Press Releases, Event Fliers, and Photos
Subscribe to the weekday Breakfast Links email FREE!
Get
updates straight to your inbox.