Piccadilly Circus Coming to Dumfries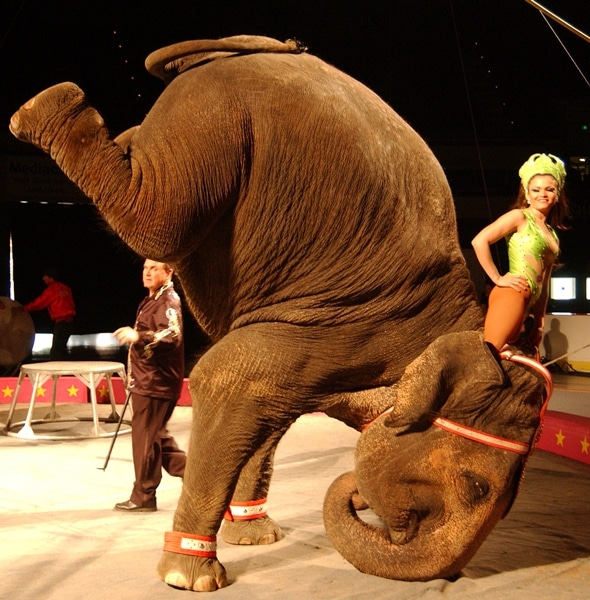 SPONSORED POST 
Piccadilly Circus brings Big Top fun to town, to the Dumfries Shopping Center on U.S. 1 April 18-22.
This edition of Piccadilly Circus is called "Blast" for good reason. The Producers who also produce the world famous Ice Capades promise non-stop fun, comedy and nuclear thrills. Racing camels, the largest herd of performing camels in the world is one of the animal features of the show.
Oka, a 9,000 pound Asian elephant stands atop a 3-foot round ball and rolls across the circus ring, showing the amazing balance of these giant behemoths. Oka is joined by a herd of African and Asian elephants and dancing zebras.
CLICK HERE FOR SHOW TIMES AND SPECIAL OFFERS!
The Romanian Olympic High Bar Team performs feats that prove why these athletes deserved all their medals. The giant catapult sends acrobatic daredevils flying high in the air while others dive from the very heights of the Big Top; a Big Top that soars 80 feet in the air.
Motorcycles defy gravity, showgirls on stilts tower above the audience and giant wheels of death rotate at breathtaking speeds. It's all designed to keep you on the edge of your seats and gasping in awe.
Comedy reigns with the world's funniest circus comedian! If your sides don't split and your belly doesn't ache and your jaws aren't sore — you just don't have a funny bone. And wait till you see the smallest bike on the planet. It's comedy for the whole family.
Piccadilly Circus has German wheels, Russian swings, African and Asian elephants, Romanian Olympians, U.S. Motorcycle extreme air-daredevils, Cossack riders, and … well you better bring your passport.
Two hours of surprises with sound, lights, music and special effects that'll blow you away. Piccadilly Circus is presented in a brand new European Big Top that soars over 80 feet into the air. Every seat is theatre style. The Big Top is climate controlled and the feeling is up close and filled with fun, and excitement.
Come early with the family and enjoy the Circus Fun Zone with elephant, camel and pony rides, and a free petting zoo. Tickets and show times are available online at thefuncircus.com or by phone at 877-373-0477. All seats are general admission. Advance deals include free kids and two-for-one adult tickets.
Post Your Email Notices, Press Releases, Event Fliers, and Photos
Subscribe to the weekday Breakfast Links email FREE!
Get
updates straight to your inbox.