Football Players Headed to Quantico to Help Warriors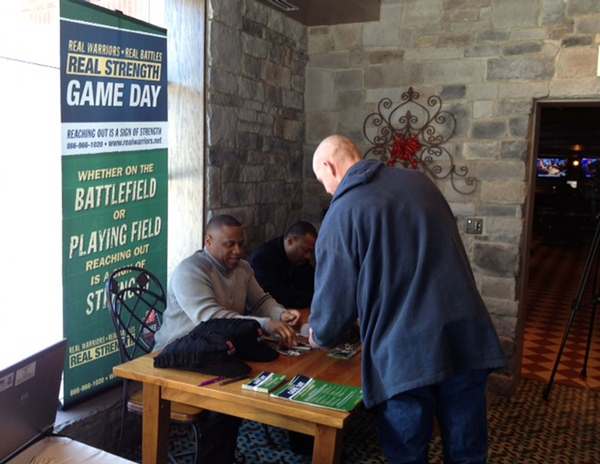 Quantico, Va. — NFL players this weekend will help some of this nation's combat warrior's transition back into daily life after returning from battle.
The NFL Players Association along with the Real Warriors Campaign will host a special "Game Day" event at Quantico. Former professional football players will join military members and their families to play a few games, to socialize and talk about the importance of asking for help during some of life's difficult transition points, according to a press release.
The event starts at 1:45 p.m. Sunday at the Clubs @ Quantico, on the Marine Corps Base.
The event comes as cases of Post-Traumatic Stress Syndrome, or PTSD, is on the rise in the U.S.
At least 70 percent of adults in the U.S. have experienced some sort of PTSD. At least 30 percent of PTSD cases are reported by veterans.
"Launched in May 2009 by the Defense Centers of Excellence for Psychological Health and Traumatic Brain Injury (DCoE), the Real Warriors Campaign encourages help-seeking behavior among service members and veterans coping with invisible wounds," stated the Real Warriors press release. "The campaign features Real Warriors who had the strength to reach out for care or support, and are proving through example that reaching out makes a difference."
NFL players scheduled to appear this weekend
Ken Harvey
• 11 Year Linebacker for the Arizona Cardinals and Washington Redskins from 1988-1999
• 1st Round Draft Pick for the Arizona Cardinals in 1988, and a four (4) time Pro-Bowl Selection
• Attended University of California, Berkeley
John Booty
• Former defense back for the New York Jets, Philadelphia Eagles, Phoenix Cardinals, New York Giants and Tampa Bay Buccaneers
• Played college football at Texas Christian University
Ade Jimoh
• Former cornerback for the Washington Redskins and Chicago Bears
• Played college football at Utah State
Eddie Mason
• Former linebacker for the New York Jets, Jacksonville Jaguars and Washington Redskins
• Played college football at the University of North Carolina
Post Your Email Notices, Press Releases, Event Fliers, and Photos
The FREE email packed with local news
The FREE email packed with local news
The FREE email packed with local news
Sign Up