Pastor to Get Break After 21 Years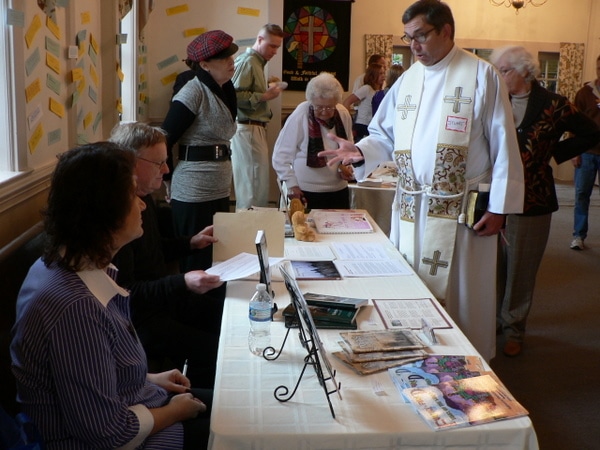 Rev. Stuart E. Schadt of Trinity Episcopal Church in Manassas, Va., is one of 158 pastors in 40 states selected to participate in the 2012 National Clergy Renewal Program, funded by Indianapolis-based Lilly Endowment, Inc.
The $17,555 grant, which the Manassas congregation applied for on his behalf, will allow Schadt to take a four-month sabbatical beginning in May 2012. Schadt has served the historic Old Town Manassas parish for 21 years without a substantial break in service.
Residents from across Prince William County attend the church.
"The … demanding character of pastoral work… is difficult for many to appreciate," said Craig Dykstra, the Endowment's senior vice president for religion. "They write and preach sermons, make hospital visits, administer the business of their churches, preside at weddings and funerals, and counsel parishioners. And they are expected to 'be there'… at both the best and the most difficult times in people's lives."
Schadt plans to rest, pray, hike and bicycle. A writer member of the Prince William Arts Council, he plans to work on his children's book projects and participate in a Highlights Foundation Writers' Workshop in Chautauqua, New York. He also plans to study watercolor landscape drawing and travel to Palestine with his spouse, Pam, on a pilgrimage offered by St. George's College in Jerusalem.
While he is away, part of the funds pay for an interim rector, with whom the Trinity congregation will engage in a parallel renewal that focuses on faith and the arts, especially for children and youth of the parish and community.
"The wealth of imagination unleashed by this program is truly wonderful to see," added Dykstra. "We can think of no better way to honor these hardworking, faithful men and women."
Six other Virginia congregations selected for Lilly Endowment grants in 2012 include Holy Cross Episcopal Church in Dunn Loring, Providence Presbyterian Church in Fairfax, St. Dunstan's Episcopal Church in McLean, Woodlake United Methodist Church in Midlothian, Powhatan Community Church in Powhatan and Second Presbyterian Church in Roanoke. Nearly 1,600 congregations have participated in the Endowment program since it began in 2000.
The Endowment continues in 2012. Application materials are available at clergyrenewal.org.
-Submitted
Post Your Email Notices, Press Releases, Event Fliers, and Photos
The FREE email packed with local news
The FREE email packed with local news
The FREE email packed with local news
Sign Up