Driver Pulled to Safety in Rising Flood Waters
Update 4 p.m.
Sheriff's authorities believe it is possible that someone removed the signs posted warning drivers of high water on River Road.
If authorities are able to find who might have removed the signs, charges could be filed, said Stafford sheriff's spokesman Bill Kennedy.
Falmouth, Va. –– At least two cars are under water this morning after one person was pulled from rising flood waters.
Rescue crews were called to two incidents overnight after motorists became stranded in their vehicles.
Two vehicles became stranded on River Road in Falmouth at 1:49 a.m. and called for help. By the time rescue crews arrived, the occupants of both cars made their way safely to shore.
Following the rescue, the Virginia Department of Transportation placed signs on the roadway (which often floods) warning drivers of the danger of rising water in the area, said Stafford fire and rescue spokesman Mark Doyle.
At 4:20 a.m., a second vehicle was caught in the rapidly-rising water and rescue swimmers were sent out to pull the victim from the car and pull them to shore, said Doyle.
The victim was not injured, and crews later found that VDOT's warning signs were not where they had been placed. Fire and rescue crews worked with the county's sheriff's department to located the signs and put them back up.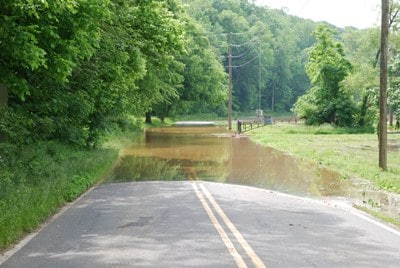 It's not yet clear why the signs were moved, and a spokesman from the Stafford's sheriff's department is working to provide more details on how and where the signs were found.
We have a photographer on the way to the scene and will bring you photos as soon we get them.
River Road runs along the Rappahannock River on Stafford County's southern border with Fredericksburg and is often the site of river flooding.
The Stafford County Fire and Rescue Department has provided tips on how to avoid becoming a victim in rising waters:
-Many drivers rescued from flood waters report that they were in a hurry to get home as a reason for tempting the danger of driving into water. However it looks, and despite what car commercials depict, driving into flood waters may be the most dangerous things one might ever do, try considering the following:
-Most cars will float (and be swept away) in 18-24 inches of moving water. Trucks and SUVs are not much better with only 6-12 more inches of clearance. Creeks and rivers can rise rapidly and the road bottom can also wash away making the water much deeper than it appears.
-Once cars are swept downstream, they will often roll to one side or perhaps flip over entirely. The driver has a few precious seconds to escape the vehicle. In fact, many drivers panic as soon as the vehicle submerges and are found later with their seat belt intact.
-Determining the depth of the water is impossible rushing water can erode the asphalt or concrete roadways creating a void or sinkhole. Therefore, what appears to be a few inches of water could be a void several feet deep.
-If you encounter high water on a roadway take an alternate route, don't tempt the danger of driving through the high water. By doing so you are putting lives at risk and not only yours, your passengers and the people who will risk their lives to rescue you.
Post Your Email Notices, Press Releases, Event Fliers, and Photos
Subscribe to the weekday Breakfast Links email FREE!
Get
updates straight to your inbox.