Man Gets 3 Life Sentences in Triangle Murders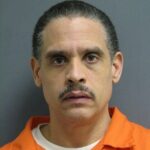 Update
Manassas, Va. –– The man who shot and killed his wife and two step children in early 2009 will spend the rest of his life in jail with no chance of parole.
Carillo Dean, a former Prince William County park ranger, shot and killed 13-year-old Connor Kirk, his sister 15-year-old Brittany Kirk and their mother, 45-year-old Elizabeth Dean in their home in Triangle.
Prior to his sentencing, Dean apologized for his actions, and a plea agreement between prosecutors and Dean's lawyers spared him the death penalty.
"This case is so horrible it's hard to explain. [Dean has] been evaluated by doctors and some say he's insane. All of them say it's disturbing that he cannot explain why he did what he did," said Prince William County Commonwealth Attorney Paul Ebert.
The victims' family also had a chance to be heard in the courtroom Friday.
"Most of the sadness is gone. I'm thinking of all of the things that Brittany and Connor accomplished while they were here, which is much more than you ever have…you're a failure," said the children's uncle, Kelly Kirk. "You're not crazy. You should have gotten the death penalty and everybody knows it. You are evil."
Brittany and Connor's aunt, Mary Tucker, took the stand, saying the children touched the lives of many who knew them.
"Brittany was someone's girlfriend, Connor someone's boyfriend, both had many friends and family who now miss them very much. I hope you spend every minute of your life thinking about what you have taken from so many lives," said Tucker.
Dean admitted to killing the children and his wife in December.
Prior to his admission he had been evaluated by several doctors, none of which found in incapable of standing trial.
He has been sentenced to three consecutive life sentences.
Original Post
Prince William County, Va. –– Carillo Dean, the former Prince William County Park Ranger who was convicted of killing his two step children and their mother, will be sentenced today.
Dean will stand in a Manassas courtroom at 2 p.m. after he shot and killed the two children, 13-year-old Brittany and 15-year-old Connor, and their 45-year-old mother, Elizabeth Dean, inside their Triangle home in February 2009.
Convicted late last year, the victim's family was upset when they learned Dean would not face the death penalty is this case.
A psychiatrist hired by Prince William County Commonwealth Attorney Paul Ebert found that Dean was not insane at the time of the killings, but that he did suffer severe emotional problems.
Dean was a county park ranger for 23 years, and following the shootings called the county's police non-emergency number page a now-retired police officer to come to the home so he could confess what he did.
The police officer on the other end of the phone called for help, and the 911 tapes from that night were played in court in December –– the family hearing them for the first time.
Following the conviction, the victim's family said they were considering filing a civil suit against Prince William County over the length of time it took for emergency responders to arrive at the scene.
Post Your Email Notices, Press Releases, Event Fliers, and Photos
The FREE email packed with local news
The FREE email packed with local news
The FREE email packed with local news
Sign Up